Project Support Fund
Kyoto University Design School Fund
Developing the Skill and Knowledge on Designing Social Systems and Architectures for Doctoral Students
 The international community today is seeking solutions to complex issues such as global warming, disaster prevention and management, energy conservation, food supply, and population management.

 The objective of Kyoto University's "Collaborative Graduate Program in Design," which was selected by the MEXT (Ministry of Education, Culture, Sports, Science and Technology, Japan) in 2012 as one of the Programs for Leading Graduate Schools, is to educate doctoral specialists who can work collaboratively with experts from different fields to design social systems and architectures.

 Harnessing basic research in informatics and engineering to build new design methodologies for dealing with pressing complex problems, we educate students in the cyber (i.e., informatics) and physical (i.e., engineering) fields in a way that enables them to work together with experts in business, psychology, and arts to construct solutions. By teaching "design" as a common language shared by experts in different fields, the program is aimed at developing expertise that leads toward improving our society.

Our overall initiatives to make the Collaborative Graduate Program in Design more visible and open to the outside world are commonly referred to as the "Kyoto University Design School". Based on the centers established within and outside of the university campuses, we carry out education and research together closely working with the society, by linking the university's education and research with societal issues and expectations.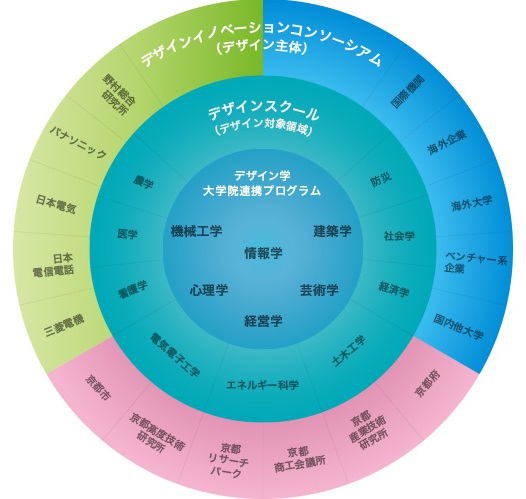 The MEXT's funding for the Collaborative Graduate Program in Design will end in AY2018. In order to develop the human resources that society needs, we feel that it is imperative to continue our educational program. While the university is currently working on establishing the Center for the Promotion of Graduate School–wide Education Programs, the future planning committee of the program is deliberating on how to continue supporting the students in the program as well as managing the organization once the subsidies have ended. To this end, we have established this fund launching a broad search for supporters for the promotion of our program and requesting financial support.

Fund applications
Supporting educational programs
Research support and financial support for students in the program
Expenses related to internships, field work, etc.
Expenses related to inviting lecturers from international institutions
Maintenance of environment
Expenses related to the charges for the centers' space, etc.
Other operating expenses