Project Support Fund
Fund for the Development of Medical Innovators
Education for Next-Generation Medical Innovators
In order to accelerate innovation in the medical and healthcare fields, it is an urgent issue to develop outstanding perssonnel who will take the lead in cutting-edge research and development as well as social implementation. The Graduate Program for Medical Innovation was established in collaboration with the Graduate School of Medicine, the Graduate School of Pharmaceutical Sciences, the Center for iPS Cell Research and Application (CiRA), and the Institute for the Advanced Study of Human Biology (ASHBi) funded from the World Premier International Research Center Initiative (WPI) Program, for students in the Graduate School of Medicine and the Graduate School of Pharmaceutical Sciences who are determined through a selection process, with the aim of building such a human resource development system.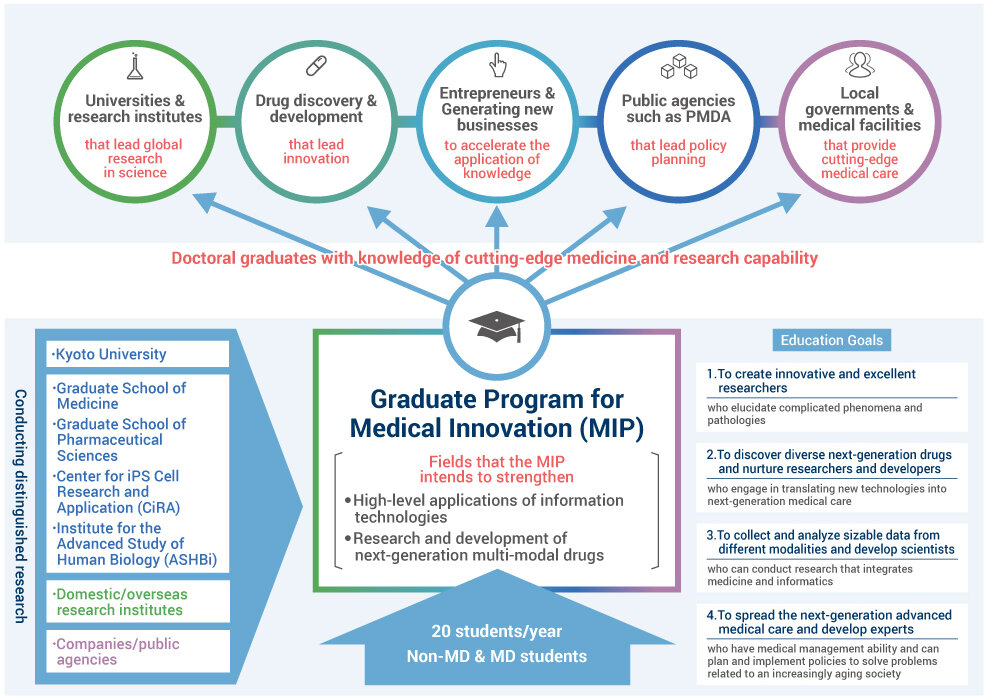 [Program Features]
1.The program will build an advanced education and research system through an academic-industrial cooperation that covers everything from basic research to social implementation of the results.
2.To meet the diverse needs of students, a diverse group of faculty members will be assigned to run the program, and young mentor faculty members will provide detailed research guidance.
3.In collaboration with related departments that have world-class research achievements and long-established expertise in industry-government-academia collaboration, the program will establish a research system that works together with domestic and international research institutions as well as industry and government.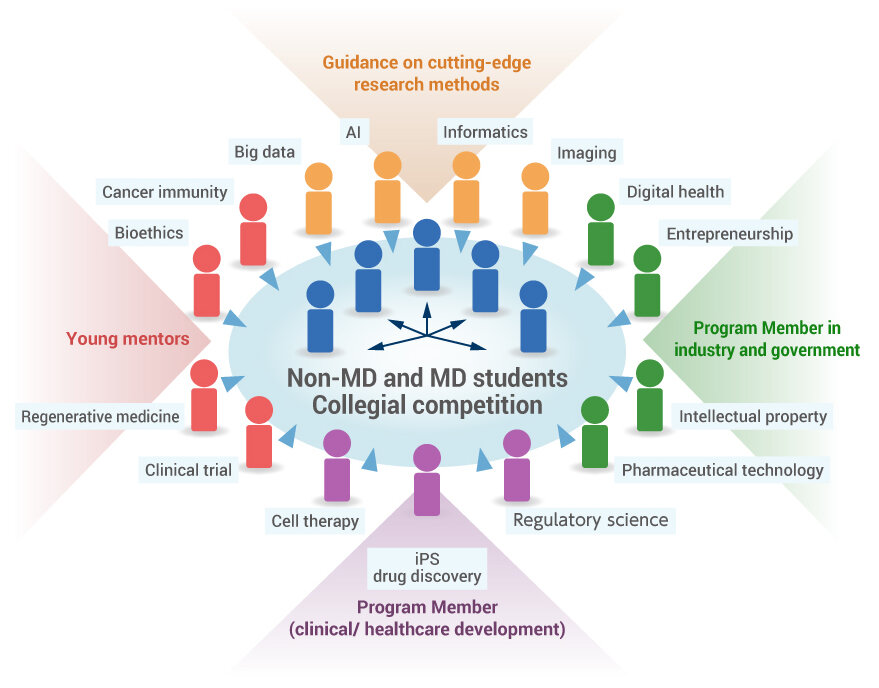 The program aims for students to acquire systematic medical knowledge as well as advanced and creative research capabilities according to their diverse backgrounds and interests. It also aims to cultivate a comprehensive perspective of the social implementation of next-generation medical treatment by interacting with leading experts in industry, government and academia in Japan and overseas.
To achieve these aims, it is necessary to provide support for research, such as Interdisciplinary Joint Research project and dispatching to overseas research institutes, as well as career path support such as internships. It is also essential to provide financial support so that students can focus on their education and research without financial concerns.
With the help of this newly established fund, we will provide financial support to the outstanding students of the program to create an environment in which they can concentrate on their studies and research with a sense of security, encourage original research, and foster doctoral professionals who are equipped with cutting-edge medical knowledge and research capabilities.
We would like to ask for your support to develop the next generation of medical innovators.
Fund applications
Support for education and research
Financial support for talented students to focus on their education and research
Support for student-designed Interdisciplinary Joint Research project
Support for overseas internships