Vol.2 Interviews with Donors

Masayuki Oku 
Chairman of the Board
Sumitomo Mitsui Financial Group (at the time of interview)
PROFILE
After graduating from Kyoto University Faculty of Law, Masayuki Oku joined the Sumitomo Bank. He served as the Manager of the Chicago Branch, the Head of the International Department, the Head of the Planning Department, the Senior Managing Director of Sumitomo Mitsui Banking Corporation, the Vice-President, and the President, and became the Chairman of the Board of Sumitomo Mitsui Financial Group. He has also served as the President of the Japanese Bankers Association. Since 2011, he has been a Vice Chair of the Japan Business Federation. He also serves as an Auditor of Kyoto University and the Chairman of Kyoto University "Kanae-kai". He graduated from Michigan Law School, US.

April 1968 Joining the Sumitomo Bank
June 1994 Appointed as a board member of the Sumitomo Bank January 2001 Appointed as Senior Managing Director of the Sumitomo Bank April 2001 Appointed as Senior Managing Director of Sumitomo Mitsui Banking Corporation
December 2002 Appointed as Senior Managing Director of Sumitomo Mitsui Financial Group
June 2003 Appointed as Vice-President of Sumitomo Mitsui Banking Corporation June 2005 Appointed as President & CEO of Sumitomo Mitsui Banking Corporation
April 2011 Appointed as Chairman of the Board of Sumitomo Mitsui Financial Group (present post)


After graduating from Kyoto University Faculty of Law, Masayuki Oku joined the Sumitomo Bank and was the head of the office of preparation for merger with Sakura Bank. After the merger, he became the second president of Sumitomo Mitsui Banking Corporation and currently serves as Chairman of the Board of Sumitomo Mitsui Financial Group, a holding company. Studying abroad at law school in the US was the turning point of his life and its origin was reading a foreign book at Kyoto University. In this interview, we heard about his days at Kyoto University and what he thinks of Kyoto University now.
Meaningful,inspiring four years
at familiar Kyoto University in attractive Kyoto City
You've lived in Kyoto since elementary school and your father and two brothers graduated from Kyoto University. Did you think of going to Kyoto University at an early stage of your life?

In my home environment, "university" means Kyoto University and it was quite natural for me to consider going to Kyoto University.
I was born in Ueda City, Nagano Prefecture and moved to Kyoto when I was a fifth grader in elementary school and lived there until I graduated from Kyoto University. I first visited Kyoto when I was in kindergarten. My eldest brother was boarding in Kyoto, near the Ginkakuji temple, and my mother brought me to Kyoto to visit him. "There's the Kiyomizu-dera temple". "That's the place where Issun-boshi was". I was excited and impressed to see the names of places I saw in old tales and thought "what an interesting city Kyoto is". Immediately after we moved to Kyoto, I used to run around by bicycle. When I passed in front of Kyoto University, I thought "this is that famous university!" At that time, I was an elementary school student and I didn't know it was difficult to enter Kyoto University. As I grew older, I felt more pressure.

After that, you went to an integrated middle and high school and then went to Kyoto University. How did you like Kyoto University?

Actually, for the first year, I took the entrance exam for Faculty of Engineering with a half-hearted effort, and did not pass it. For the following year, I thought I may be cut out for the Faculty of Law and changed my choice of course and I passed the exam. Failing university entrance exams is just a part of my life.
What I was surprised about after entering Kyoto University is that there were so many talented students. Relationships in junior high and senior high schools were limited, but at university, there were many brilliant students from all over the country. They were diverse in their way of thinking and behavior. Socializing with such people was inspiring, exciting, and interesting. I spent four worthwhile and meaningful years.


English reading class that opened the door to studying law abroad

I heard that you were a hardworking student, holding a voluntary seminar.

No, I don't think so. I studied modestly and played modestly (laugh). I joined the wandervogel club in my sophomore year and I used to go mountain-climbing in summer and skiing in winter.
In my junior year, I read up on "Commercial Paper (CP)" relating to US Commercial law in a class for reading English materials. I often continued discussion with then-associate-professor Yoshiya Kawamata at a pub. Since I wasn't able to read through it in one year, I asked him to continue teaching me in my senior year. This experience later led to my major turning point for my life as a banker. God works in mysterious ways. In my fourth year at Sumitomo Bank, the bank was pursuing an internationalization strategy. I was watching from the sidelines and I remembered reading "CP" and the "Uniform Commercial Code" relating to the US commercial law from my college days, and I wrote down in my personnel record "staff members who are familiar with international law will be necessary in the future". It was not what I wanted to do, but one day, all of a sudden, I was ordered to study abroad. From the age of 27, I studied at a US law school for two years.
Life is a repetitive cycle of meetings and selections. We will, of course, need to be responsible for the results of our choice, but we may say that life is interesting because we can't see tomorrow, for example, my meetings and selections in our college days led to my present self.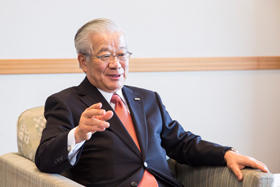 It is often said that Kyoto University students don't form groups. How is your relationship with your former fellow students after graduation?

I still associate with my former fellow law students during the days of the college of liberal arts. When I resigned as president, we gathered together and they gave me words of thanks. "Not forming groups" may be because each individual has a strong self-sustaining attitude. I heard that the solidarity and energy of graduates from private universities are exercised in fund-raising. Probably, there are many sons of business owners and the connection with alumni may be useful for their business.
However, if you think about it, there are probably many Kyoto University alumni who gained public trust as Kyoto University graduates and received significant benefit. Regardless, alumni may be able to support the University in order to encourage their juniors in various ways.
 
Providing a variety of support by uniting as Kyoto University
Is there any recent news relating to Kyoto University to which you paid close attention?

Dr Isamu Akasaki, who graduated from Kyoto University, was awarded the 2014 Nobel Prize in Physics, following Dr Shinya Yamanaka's award in 2012. Among Japanese Nobel laureates, alumni or members of the faculty of Kyoto University account for the most, which instilled great pride and motivation in alumni.
Moreover, in 2014, a student was selected to play for a pro baseball team, a track and field athlete finished first in the 800m at the All Japan Inter Collage Athletics Championship, and the ekiden team participated in the All Japan University Ekiden for the first time in 42 years. It is great that current students show their talent in both academics and sports.
In research, there are many cases where alumni of other universities achieve results at Kyoto University or alumni of Kyoto University achieve results at other universities. Since there is increasingly high intellectual fluidity among universities, Kyoto University needs to consider what the University should be as a "center of knowledge" or "center of excellence", which maintains a wide variety of talented researchers, not forming groups of Kyoto University alumni.

How do you think alumni should be involved in Kyoto University's overall efforts?

To help brilliant students grow further, the University needs to prepare a wide variety of learning opportunities and improve its support system. In a more globalized and diversified society, students learn and take on various challenges in many different ways. To match these situations, there needs to be a variety of support. If the amount of operational subsidies is decreasing and is not enough to fund the University's spending, then the funds raised by Kyoto University Foundation will be used to cover the deficit. It is a way of commitment by alumni to the University to support Kyoto University Foundation on a long-term basis.
Meanwhile, there are a variety of needs and requests by alumni. "We want these personnel", "we want to know this research", etc. I believe that the University needs to create a place where they can properly receive these opinions.

What is necessary in the global age
is to "consider a world map"
Amid globalization, Kyoto University is actively engaged in sending its students to study overseas. You mentioned that your studying at a US law school was a valuable experience. Do you think students should study overseas while they are young?

What is important is the students' motivation. If the University establishes the system and then asks students to study abroad, that would be pointless. For example, if there is a student who wishes to have an opportunity to study or conduct research overseas, then the University should support him/her to do so. This is the normal way of support.
For me, the experience of studying overseas in my young days gave me a foundation for my later life as a banker. After becoming president, I kept saying to our employees "Consider and act in reference to a world map", because I learned the importance of making decisions taking into account Japan's place in the world, when I worked overseas.
Currently, the flow of "people, goods, money, and information" is rapid, economic and geopolitical movement is involved, and countries with different values have switched to a market economy. As a result, confusion has been caused.
Moreover, this is the era of uncertainty, insecurity, and opaqueness. Recently, complexity has been added and the situation has become chaotic. To survive in such an era, it is more and more important to develop international sensibility and the skills to see the true nature of things.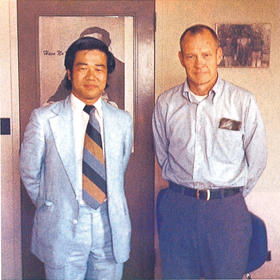 Take advantages of learning in Kyoto
and develop your knowledge and toughness
President Yamagiwa has established the "WINDOW-A Vision for the Future" plan, in which the University shows, for example, what personnel it should develop. What do you think is necessary for Kyoto University students in this era of uncertainty, insecurity, opaqueness, and complexity?

To put it bluntly, what is necessary is "knowledge" and "wildness". You cannot live in this age of complexity without being courageous. While the "skills to see the true nature of things" cannot be developed during the four years at the university, it is important to first have a broader view, a way of looking at things, and a flexible way of thinking.
There is a famous rakugo (traditional comic story telling) saying "if the wind blows the bucket makers prosper". There is a certain amount of truth in this reasoning. In order to understand the relationships of the world, or to understand what will move and how it will move when you press this button, you will need to have fundamental knowledge and see the true nature of things in a broad and flexible view.
To this end, "liberal arts" in a broad sense is essential. I heard that Kyoto University is trying to focus on liberal arts education again and aiming to develop personnel with comprehensive ability. I have a high expectation of Kyoto University's efforts.

Finally, do you have any message to Kyoto University students?

Take 100% advantage of learning in Kyoto. Kyoto has a long history and a traditional culture as well as an enterprising spirit. It also has an international environment. If you have enough desire, you can learn and absorb a lot in Kyoto. I hope that all students take action without fear of failure and try positively to do anything.
The reason why alumni say such a thing is that they couldn't do enough. They say it, thinking "Juniors, I'll leave it to you".
((Interviewed in February 2015)