Vol.3 Interviews with Donors

Masaru Nishimura
President
Hiiragiya
PROFILE
Masaru Nishimura was born in Otsu City, Shiga Prefecture. After graduating from Kyoto University Faculty of Law in 1968, he joined Toyota Motor Corporation. In 1976, he left the company and in 1977 he became the adopted son-in-law of Hiiragiya and inherited the position of sixth family head. He served as the 85th President of Kyoto Rotary Club, Director of the NPO Local Community Development Network of Central Kyoto Neighborhood and held other important posts in several meetings and associations relating to Kyoto such as the Association of the Area along Oike Street, the Association of Neighborhood of Anekoji Street in Chuo Ward of Kyoto City, etc. He is also the Organizer of Kyodai-kai, a group formed by Kyoto University alumni who are current or former members of Kyoto Rotary Club.
Great transition from office job
to hotel business at traditional inn
In 1818, the founder of Hiiragiya, who came to Kyoto from Fukui, started carrier and marine products trade businesses, and the next generation began to provide accommodation. Since its founding, Hiiragiya has welcomed many key figures, including patriots during the end of the Edo period and nobles as well as writers and artists in the Meiji period.
"Raishanyoki" refers to "Sit and relax, just as if you were at home", which is the spirit that has always been maintained at Hiiragiya.
The sixth family head of this traditional inn, or ryokan, is President Nishimura. He graduated from Kyoto University Faculty of Law, and after working for Toyota Motor Corporation, he was formally adopted by the family as he was the husband of a daughter of the family.
"Although I wasn't worried, I was a little bit puzzled, because I was of the age to take an important position in the company", he said. Moreover, from office job to hotel business, which he never experienced before. President Nishimura thought "I have to switch my mind". Before working for Hiiragiya, he went to Mount Hiei for Buddhist training for two weeks and worked for a hot-spring hotel in Beppu for half a year.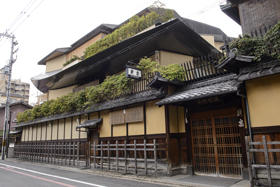 Clearly distinguish between what is necessary
and what is really wasteful
Although he was prepared for it, he was confused by the difference in the management many times. "From the perspective of the rationalism of large companies, I first felt there were many wasteful business practices in ryokan, but I gradually came to understand that for long-established business, there are things that, even though seemingly wasteful at a glance, can enhance their commercial value."
Some examples include an antechamber. From the perspective of the hotel business, it may be superfluous, but is actually serves the function of a waiting room or a space for relaxation, and as a result, creates comfortable space.
Yet, it was also true that there coexisted many wasteful things. Moreover, old things are not always good. "I decided to sort these things into categories of what to maintain and what to change, under the principles of "Onkochishin (discovering new things by studying the past)" and "Fuekiryuko (incorporating new changes in immutable basics with the times)".
Tatami mats and tokonoma (alcove) and other Japanese fixtures were maintained in the traditional way. Meanwhile, toilet and sanitary facilities and other necessary parts were changed to functional and hygienic equipment.
While maintaining pride as an heir to the tradition of Japanese culture, he decided what is necessary and what is not to for "Raishanyoki". This is the way of Hiiragiya by President Nishimura.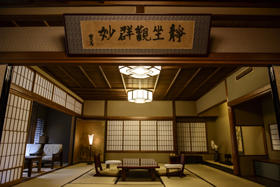 Building a new annex with comfortable facilities that fit the new age
In the hotel business, customers express different reactions, so the service providers cannot lose their concentration for a moment. Moreover, due to the high expectations of "Kyoto", normal hospitality will not satisfy customer needs.
Accordingly, they always need to consider what is expected. One result of such attitude is the new annex built in 2006.
"In Hiiragiya, there are buildings representing each period from the Edo through Showa periods (1603-1989). To follow this, we decided to create a building representing the Heisei period (1989- present) to fit the times."
The concept of the building is a modern sukiya-zukuri (tea ceremony room architecture). While incorporating Japanese taste in its building materials and design, the building has western-style rooms with beds and is the marriage of Western and Japanese cultures. With creating something new and traditional at the same time, Hiiragiya has opened a new annex building that fits into the modern life of people.

What I expect of Kyoto University as an alumnus
and a business person in Kyoto
President Nishimura always feels a shallow relationship with Kyoto University. Although he socializes with his fellow former students, he seldom goes to the University. There are no faculty members whom he is familiar with. "If there was a relationship between alumni and the University, their sense of belonging to their alma mater would be developed. I hope that the University will play a role of connecting alumni and the University", he said.
With regard to Kyoto University Foundation, he pointed out that if the University clearly communicates the need for funding to alumni, they would no doubt like to support the University.
I'm glad to hear that more efforts unique to Kyoto are being made, including scientific research conducted by Kyoto University and a Japanese cuisine chef. "Collaboration with Kyoto University will lead to new products, and further result in activation of Kyoto. As an alumnus as well as a business person in Kyoto, I hope that Kyoto University will continue to contribute to the development of the local community.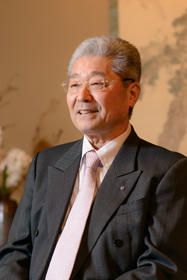 (Interviewed in February 2015)