Vol.6 Interviews with Donors

Sadanori Yagi
PROFILE
Sadanori Yagi was born in Aichi Prefecture in 1935. After graduating from the Faculty of Economics of Kyoto University in 1958, he joined Matsumoto Shoten Corporation, a wool trading company located in the Semba district in Osaka. In 1961, he joined Osaka Kinzoku Kogyo Co., Ltd. (today Daikin Industries, Ltd.), where he was in charge of sales and planning. In 1972, Mr. Yagi proposed that the company set up its own sales company specializing in air conditioners. His proposal led to the establishment of Japan's first sales company specifically selling a single product. He assumed Senior Executive Officer in 1989 and Managing Director of Daikin Industries in 1994. After retiring from the company in 2003, he became a part-time instructor at the Graduate School of Osaka Sangyo University. In 2004, he served as a speaker in the field of economics at the Northeast Asia Academic Forum held in Beijing. Mr. Yagi has been a member of the Osaka Club, a general corporation and a membership social club.
Switching from the textile industry, which was flourishing at that time,
to an air conditioner manufacturer, with foresight
Mr. Sadanori Yagi enjoys a fulfilling life every day, while participating in regular luncheons at the Osaka Club, the oldest social club in Osaka. He worked for 42 years at Daikin Industries, Ltd., from which he retired as Managing Director. After leaving the company, he served as a part-time instructor at the Graduate School of Osaka Sangyo University.
n the days when he worked as a business person, Mr. Yagi vigorously pursued his career, taking advantage of foresight he gained at Kyoto University.
After graduating from the Faculty of Economics at Kyoto University in 1958, Mr. Yagi joined a wool trading company. In his third year at the company, although the textile industry was still flourishing, he questioned its future. One day he happened to see a newspaper job advertisement for Osaka Kinzoku Kogyo Co., Ltd., (today Daikin Industries, Ltd.). He applied for the position and was successful, so he started to work as a sales representative for commercial air conditioners. "I had very hard experience," said Mr. Yagi.
He was in charge of the industrial area in Amagasaki City. Every day he tried to sell air conditioners to factories without appointments or invitations, but was turned away at the door. He recalled that, "Generally there was no idea to air-condition factories at that time."
Despite such difficult conditions, he achieved steady sales results. At the age of 31, he was sent to a partner company in Taiwan on loan to provide local staff with sales advice. While riding a motorcycle for sales activities together with local sales personnel, Mr. Yagi also visited Japanese companies and obtained many orders. He was awarded a letter of thanks from the president of the partner company, and promoted to the position of sales planning section chief when he was 34 years old.
Actively maximizing his own capabilities,
by such means as making a proposal to establish
Daikin's own sales company
However, his greatest achievement was to propose that Daikin establish its own sales company. In 1970, Daikin set up a factory to manufacture residential room air conditioners, and put a lot of energy into cultivating a market for household appliances. At that time, however, most home electric appliance stores were run by electric appliance manufacturers. With their affiliated companies virtually monopolizing the household appliance retailing channels, Mr. Yagi had great difficulty selling residential room air conditioners. In the case of a cool summer, sales were even slower.
"It is no use doing the same thing as other companies. I had long been thinking that the company should form its own sales network." When Mr. Yagi first made this proposal in March 1972, his boss read it but left it on the shelf for a while. However, that year had a cool summer, which motivated his boss to adopt his proposal to establish such a sales company. Daikin thus became the first manufacturer in Japan to create a sales company specializing in selling only a single product.
"Initially it was hard to place the sales company on track. However, by pushing forward with the strategy focusing on customer-first service, we began to see our business performance gradually improve."
Since then, Daiken has set up 100%-owned sales companies not only in Japan but also overseas. These companies serve as an engine for the development of the company.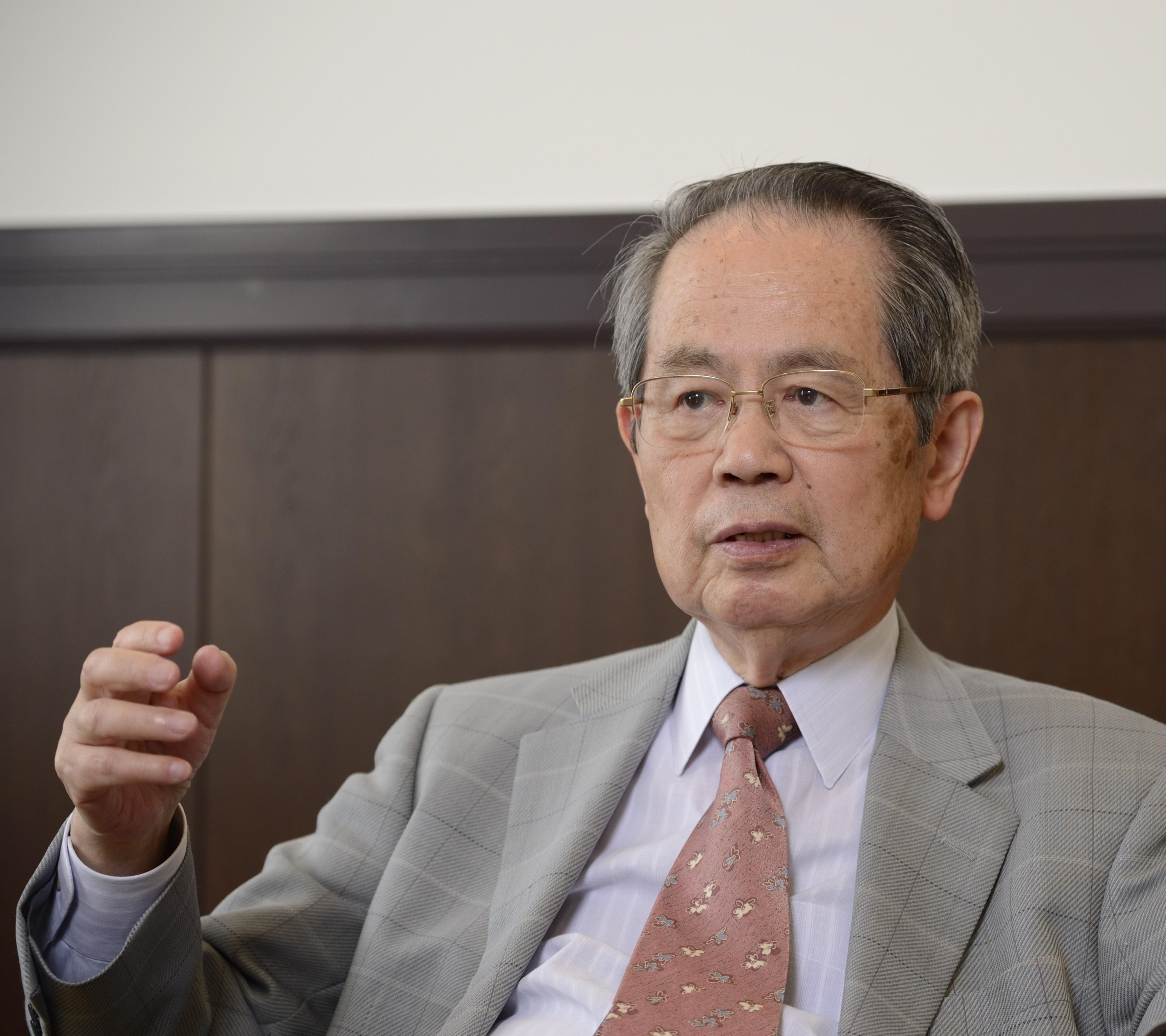 During his days at Kyoto University,
he cultivated a deep economic knowledge and foresight,
both of which are indispensable for a business person
When Mr. Yagi was in high school, he listened to a lecture by Dr. Hideki Yukawa, which developed his interest in Kyoto University. He also found that many authors and translators of his favorite books were faculty members of Kyoto University. He then decided to go to the university.
"At the Uji campus where I studied in the first year, I was always studying as there was nothing else to do since it was in the countryside. But in my second year at the Yoshida campus, around which I faced many temptations, I neglected my studies a little," he said sheepishly. Even now, however, he can smoothly recite the titles of courses he took as well as the names of the professors and the lecture contents.
"Attending the course 'Principles of Economics' by Dr. Hideo Aoyama enabled me to take a bird's-eye view of the entire economic movement. Through the 'International Economics' course given by Dr. Kiyoshi Matsui, I leaned about the advantages of international transactions. Dr. Wasaburo Kimura's course 'Balance Sheet Theory' proved truly useful later when I worked as a business person."
In his days at Kyoto University, with a strong intellectual appetite, Mr. Yagi acquired extensive knowledge of the economy and foresight based on that knowledge. He said, "There is no doubt that these assets that I had cultivated at Kyoto University supported me in my business career."
Studying at Kyoto University has made me what I am today.
I expect that the charm of my beloved alma mater
will increase even further
"I am happy to have been able to enjoy such a fulfilling life over 80 years. I attribute this to my days at Kyoto University." Mr. Yagi studied in Kyoto, a city that values students, while obtaining many mentors and respected friends. At Daikin, as the only sales person who had graduated from Kyoto University, he was given many opportunities.
Therefore he made donations to the Kyoto University Fund to repay the university, though in a modest way. Since he feels a special attachment to his alma mater, he has great expectations for the university.
"I hope that many more people will want to enroll at Kyoto University. To this end, it is necessary for the university to produce many researchers who are respected by students, and to become a more attractive institution."
Another hope he has for Kyoto University is that it will further grow the Kyoto University Fund, so as to function as a meaningful base for the development of both Kyoto University and science and technology in general.
"I expect that Kyoto University will make an all-out effort to achieve these two goals."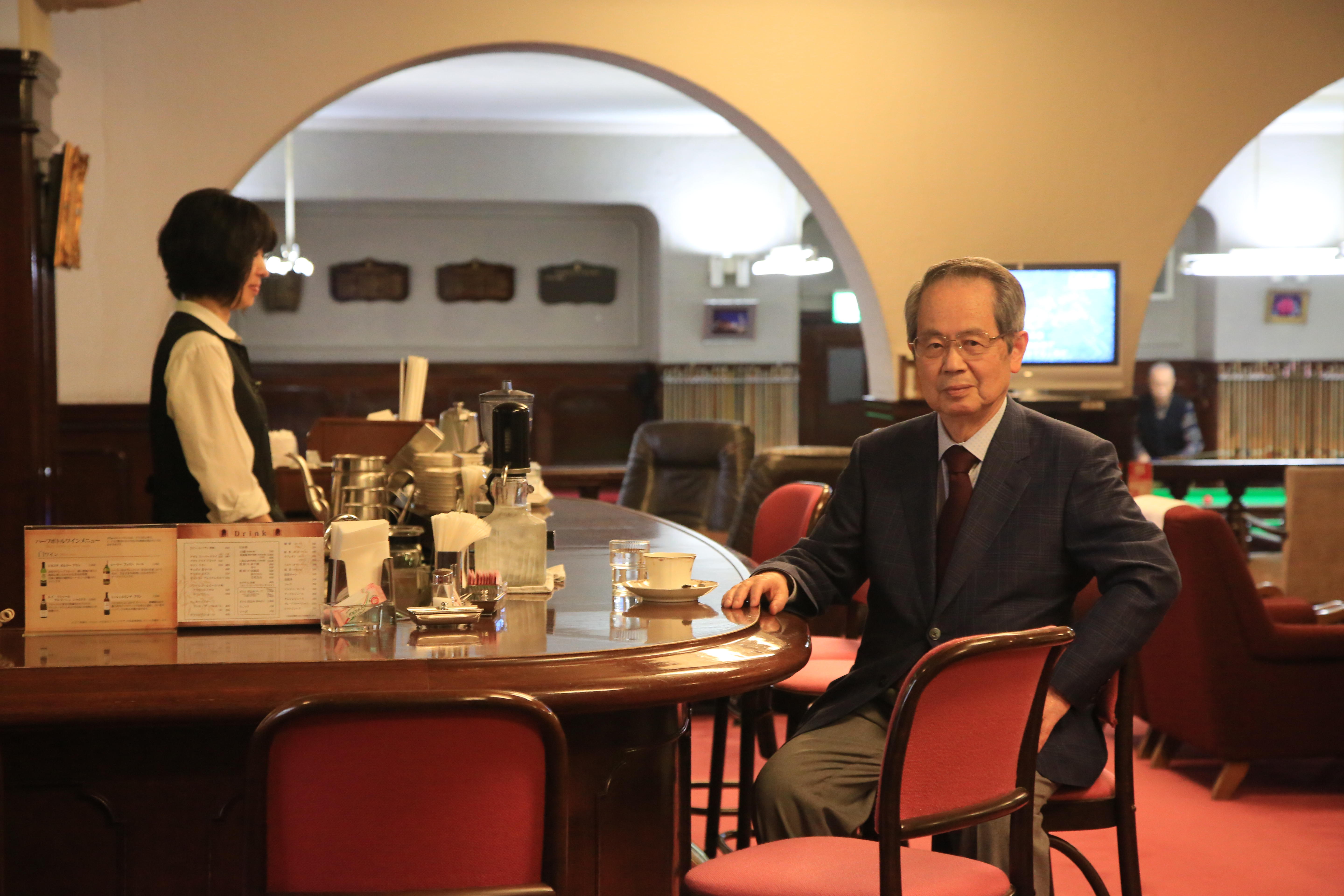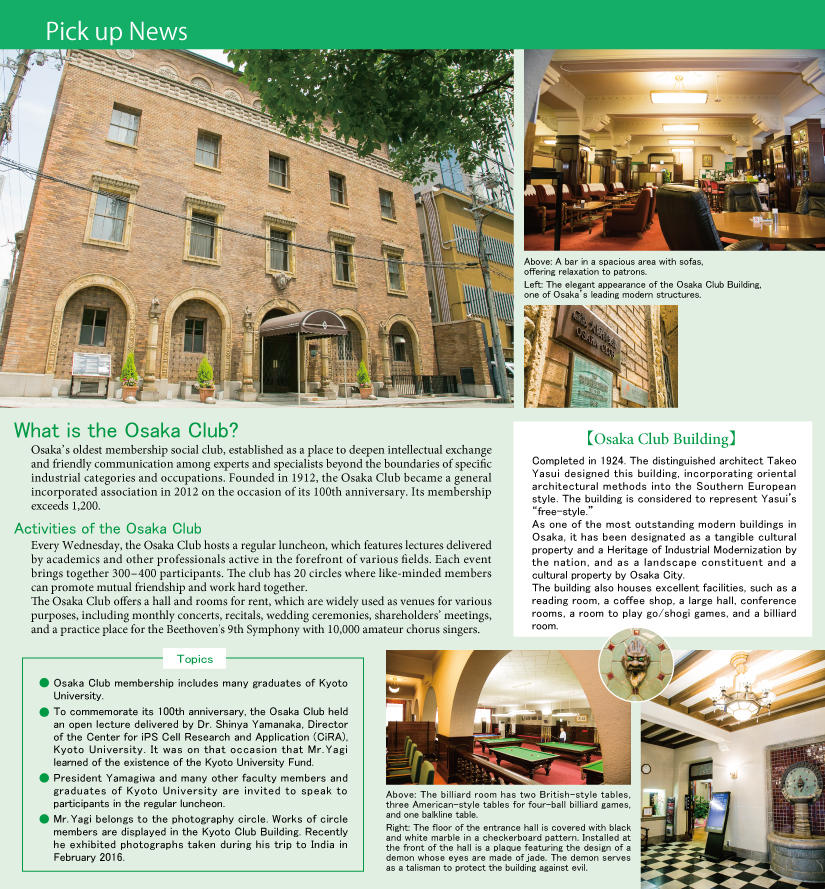 (Covered in May 2016)