Vol.7 Interview with Donors

Yasuyuki Horiguchi
Representative Director and CEO
Horiguchi Co., Ltd.
Born in Gunma Prefecture in 1939. Graduated from Kyoto University's Department of Chemical Engineering of the Faculty of Engineering in 1962. Completed one of the University's Graduate School of Engineering's master's program offered by its Division of Chemical Engineering in 1964. Studied and served as a teaching fellow at the University of Waterloo's doctoral program for four years from 1964 before joining Horiguchi Co., Ltd. (his family business). Became Representative Director and President in 1983, and then Representative Director and CEO in 2017. Received the Order of the Rising Sun, Gold and Silver Rays, in 2013. Former Vice President of the Shibukawa Chamber of Commerce and Industry.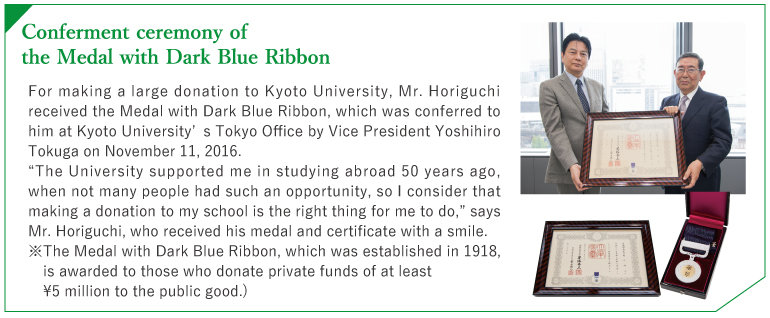 Horiguchi Co., Ltd., which sells construction materials, was founded as a hardware store in Gunma Prefecture in 1629 (the early Edo period). The Company currently comprises a group of 11 companies, including Kansan, which manufactures and sells high-pressure gas, and Maruhon, which sells industrial gas and equipment.
Mr. Horiguchi, the eldest son of the founder, completed a master's program offered by Kyoto University's Graduate School of Engineering in 1964. Subsequently, he decided to study abroad, which not many people could do at the time.

          ◆  ◆  ◆

Since I knew I would inherit my father's business, I decided to experience living overseas before doing so by studying abroad in Canada.
At the time, only two upperclassmen in the same laboratory as myself had studied abroad. With the exchange rate fixed at ¥360 per one dollar, very few students could afford studying abroad, and study-abroad requests were often denied by universities overseas. However, I received a letter of recommendation from my instructor and was accepted as a research scholar by the University of Waterloo, which was founded in 1957 and still new back then. The two upperclassmen who had studied abroad were master's program students, so I was the first to study abroad as a doctoral program student.
While I still hold reunions with my classmates from Kyoto University, I remember my days in Canada more clearly, because of the valuable rarity of the experience.
In Canada, I lived in a dormitory, where I met my friends with whom I remain in contact to this day. I also met a second-generation Japanese-Canadian family, to whom I am deeply indebted. I returned after living in Canada for four years.

          ◆  ◆  ◆

The University of Waterloo Alumni Association has a Japan branch. Being one of the oldest exchange students, I served as chairman for two years from 1990. Members of the Japan branch include many university instructors with some national university presidents. While the Japan branch holds a reunion every two to three years, not being able to recently welcome new members, its members' average age is becoming older. Canadian scholarships for international students are decreasing, and so is the number of Japanese students who study abroad at the University of Waterloo.
People who studied abroad at the same school should take their experience as common ground on which to build valuable cross-generation relationships. Such relationships should not be taken lightly, since they often become very helpful in the future. I encourage students to put effort into maintaining all kinds of relationships.

          ◆  ◆  ◆


Even after 50 years since studying abroad, despite there being a distance of 10,000 kilometers between myself and the University of Waterloo, I still regularly receive many pamphlets and video mails every year, including alumni association newsletters, newsletters from the Faculty of Engineering, invitations to gatherings with the president, alumni association branch federation newsletters, invitations to graduation ceremonies, and of course donation requests. I have always wanted to give back to the research scholar system for helping me study abroad, so I always reply to emails from the University of Waterloo and also send donations.
I first found out about the Kyoto University Fund through a letter I received in 2015, and also recently began receiving donation requests from local universities. However, I must say that Japanese universities are not very good at collecting donations. Universities overseas maintain frequent contact even with old exchange students, such as me. Japanese universities should do the same
While universities in other Asian countries are globalizing rapidly, Japanese universities have become left behind. I look forward to seeing Kyoto University become one of the world's leading schools by learning from universities overseas to improve its practices relating to not only education and research but also financial management.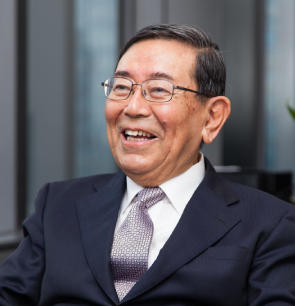 (Covered in November 2016)