Vol.8 Interview with Donors

Tomiya Takamatsu
President and Representative Director
DyDo Group Holdings, Inc.
Born in Nara Prefecture in 1976. Joined Sanyo Electric Co., Ltd., after graduating from Kyoto University's Faculty of Economics in 2001. Joined DyDo Drinco in 2004. Became a member of the Board of Directors in 2008. Served as Managing Director, Executive Director, and Vice President and Director before assuming his current position in 2014. Became President and Representative Director of DyDo Group Holdings, Inc., in January 2017.
Setting an example of the Company's corporate culture of
"having the resolve and courage to take up challenges"
DyDo Drinco, which is known for its vending machines, is a soft drink manufacturer that sells about 85% of its products through vending machine channels. The Company enjoys a three times larger ratio of vending machine sales to total sales compared to the industry's average, and puts effort into differentiating itself from other companies by providing unique drinks and vending machines with point-card and speaking functions.
Tomiya Takamatsu is DyDo Drinco's third-generation president.
The Company was founded soon after the war as a household medicine kit distributor. Subsequently, it began manufacturing and selling medicine and energy drinks, and then developed its current business strategy of selling canned coffee drinks through vending machines. Over the years, searching for a means of survival, the Company took up various challenges.
President Takamatsu himself puts effort into reinforcing the Company's business foundation for next-generation growth by exploring ways to apply IoT technology to vending machines and searching for new strategy bases overseas.
While President Takamatsu sets an example of the Company's corporate culture of "having the resolve and courage to take up challenges," looking back to his days at Kyoto University, he says, "There are many things I regret not trying."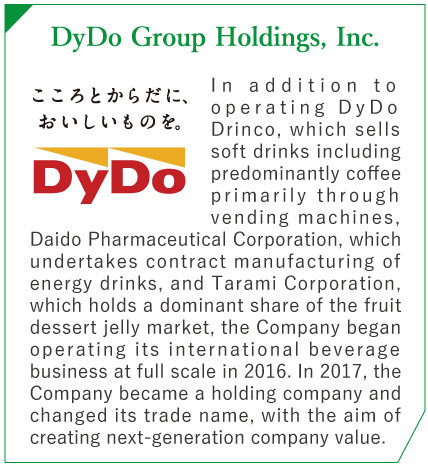 Regretting not trying something other than baseball
Despite having had his mind set on quitting baseball after having played the sport since elementary school, President Takamatsu says he followed his friend and joined the school's hardball baseball team because he could not find anything else to do at college.
He had served as captain of his teams in junior high and high school, and led by producing good results. However, feeling burned out after high school, President Takamatsu could not perform well in college. He says he felt defeated but actively supported his team from behind the scenes by organizing its reserves.
Nonetheless, devoting himself to college baseball produced a number of good results. For the first time in several years, his team had more wins than losses against Kwansei Gakuin University in the Kansai Big 6 Baseball League tournament. He built a strong friendship with his teammates and learned how to work as a team player. President Takamatsu says college baseball helped him acquire the skills he now values highly as a company president.
On the other hand, he says he regrets not trying something new.
"With a school culture that values academic freedom, Kyoto's unique atmosphere of generosity toward students, and minimal disturbance from society, Kyoto University provides students with a great environment for devoting themselves to their studies and interests," says President Takamatsu. Recalling the days he walked between his dormitory and field, he states, "I had a fun college life. But, looking back, I regret not studying abroad or working part-time to learn more about the outside world."
Encouraging students to broaden their views
by paying more attention to the outside world
"Although students still have the privilege of devoting themselves to their interests, changes in today's world are rapid. Kyoto University students are particularly expected to become future leaders and researchers able to compete globally," says President Takamatsu, who expressed his support for the University's WINDOW Concept, stating, "The Concept's goal of cultivating 'Wild and Wise' students requires helping them learn about the diversity of the world's cultures and values."
Motivated by regret, President Takamatsu wanted to help students broaden their view, and decided to support the "CES: Kyoto U. Fund - Corporation Endowed Scholarships," which was established in 2017, to increase their future options. The CES is a non-refundable scholarship system that supports students by allocating funds donated by private companies represented by graduates.
"I hope reducing students' financial stress will increase their opportunities to try new things," says President Takamatsu.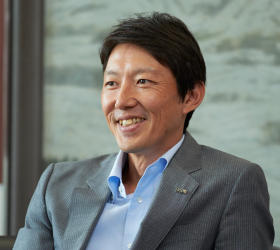 Efforts to help Kyoto University students
enhance their uniqueness and challenging spirit
President Takamatsu says that one of the things he has noticed in the past few years, while interacting with students during job interviews and internships, is that they are becoming more stability-oriented.
However, Japanese companies are currently entering a period of reform. Changes are taking place in business rules and competitive environments, requiring companies to grow even further by taking on radical challenges. Therefore, students who plan to work at Japanese companies are expected to be able to take part in tackling challenges.
"Kyoto University students have always been unique and full of challenging spirit. These are the features that the University should put more effort into helping students enhance. DyDo Group Holdings aims to assist the University in helping its students by strengthening its relationship with the University and its students," says President Takamatsu.
(Interviewed in June 2017)