Vol.9 Interview with Donors

Yukio Masuda
Born in Shizuoka Prefecture in 1941. Entered Mitsubishi Corporation after graduating from Kyoto University's Faculty of Law in 1964. Became a member of the Board of Directors in 1996. Served as Senior Vice President from 1999, Executive Vice President from 2001, Vice President & Representative Director from 2002, Executive Adviser from 2006, and then Adviser from 2008 (retired in 2018). Former Outside Director of Showa Shell Sekiyu K.K., former Outside Director of Inpex Corporation, former Outside Auditor of Tokyo Gas, and former member of Brother Industries' Independent Advisory Committee. Currently serves as Chairman of the Japanese Foundation for Cancer Research's Board of Trustees.
"Trying new things" and "expressing one's thoughts,"
and if doing business overseas,
"knowing about one's own country" as the basics of doing business
Mr. Yukio Masuda joined Mitsubishi Corporation in 1964, hoping to work overseas. However, his wish did not immediately come true, and by the time it did, he was already 40. Mr. Masuda spent the early years of his career in the energy business field, before working overseas for ten and a half years in Los Angeles and New York. Subsequently, he did business with major oil companies and state-owned oil companies in oil-producing countries.
Mr. Masuda says while he struggled at first to communicate in English, he realized he had nothing to be afraid of, even when dealing with major companies.
"The basics of doing business that I learned while working in Japan for 17 years were the same," he says.
Mr. Masuda also says he had a fairly successful business career, which he devoted to helping Japan secure stable energy supplies.
Mr. Masuda's basics of business are "trying new things" and "expressing one's thoughts." "To get things started, you need to try new things, and to get your thoughts across, you must be able to express them," he says.
Mr. Masuda also points out the importance of "knowing about one's own country" before doing business overseas, saying, "We need to firmly establish our identity on a sufficient understanding of our own culture so that we can avoid confusing the values of another culture with those of our own."
Based on his experience of working overseas and serving as an outside director at multiple companies, Mr. Masuda says realizing that a person can only understand another country by observing and living in that country led him to his motto: "All experiences, including painful and moving ones, become true knowledge and wisdom."
Undergoing an extremely painful college yacht club experience
that became his compass in life
Mr. Masuda includes the word "painful" in his motto because of an experience he underwent during his college yacht club days.
Mr. Masuda decided to join the yacht club because, since he had not participated in any team sports in either junior high or high school, he was looking for a team where all new members would likely be beginners. In those days, the Kyoto University Yacht Club was a very strong team.
To be able to participate in his team's daily practice, Mr. Masuda bought a commuter pass for the route between his school and the team's training camp site, which was located in Otsu City, Shiga Prefecture. In his sophomore and junior years, Kyoto University won third place as a team in the All Japan Intercollegiate Sailing Championship.
In his senior year, Kyoto University won every competition leading up to the Kansai Region Preliminaries for the All Japan Intercollegiate Sailing Championship, but finished second in the end by a slim margin. All Kyoto University Yacht Club members and supporters, including the team's alumni, expected their team to win that year's national championship.
"However," Mr. Masuda says, "in the first round of the preliminaries, despite being the captain, I got myself disqualified by colliding with another yacht. Subsequently, our vice-captain did the same, and our team could not even make it beyond the preliminaries."
Mr. Masuda shaved his head in contrition and apologized to the team's alumni.
"Being disqualified in the preliminaries was a painful experience. However, it became my compass in life. To avoid repeating the same kind of mistake, I try my best to be modest, sincere, and honest at all times. The experience made me who I am today," Mr. Masuda says.
Mr. Masuda still maintains a deep relationship with his former teammates, who all share this painful experience, and this has become one of his greatest fortunes.
Making a donation to Kyoto University in return
for helping him form the basis of his life
"During my four years at Kyoto University, which values freedom and independence, I learned that exercising freedom means not only doing as I wish but also taking responsibility for my actions. I am greatly indebted to the people in Kyoto City, who are very generous to students. Kyoto University helped me form the basis of my life, which is why I will forever love the University," Mr. Masuda says.
In addition, referring to a lecture by a Kyoto University researcher on his latest research findings, which he found very interesting and of which he felt very proud when listening to the lecture, he says "There must be many more graduates who can be equally influential, and I look forward to seeing Kyoto University put active efforts into making the researchers and their research activities more widely known."
One of Mr. Masuda's jobs as Chairman of the Japanese Foundation for Cancer Research's Board of Trustees is to collect donations. He says he decided to make a donation to Kyoto University after seeing young entrepreneurs who do business overseas make generous donations to their schools.
"As a donor, I believe the University should publicize its current efforts, its need to collect donations, and its plan for using the money it receives," Mr. Masuda says.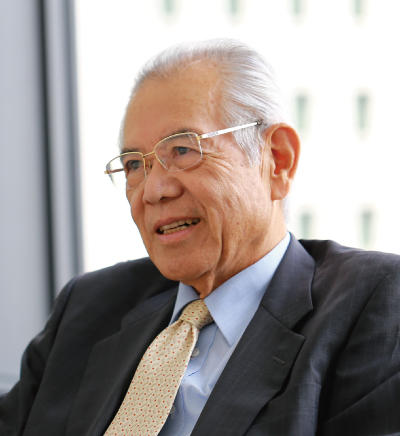 The importance of choosing to undergo various experiences
by actively traveling overseas instead of staying in Japan
Mr. Masuda says he admires President Yamagiwa for spreading the message "The important thing is to just try" through the media.
Governments around the world are currently leaning toward protectionist measures, giving rise to nationalism.
"Today, no country can live without interacting with another. The important thing is to recognize and respect the history, culture, and values of other countries as we do our own. That is why students need to acquire an understanding of countries overseas based on experience," Mr. Masuda says.
Mr. Masuda expresses concern for our dependency on smartphones. He says learning about something new should not be complete with a mere search on a smartphone; instead, the information we retrieve needs to be acquired, which requires analyzing it and then using it in discussions or communicating it to others.
"I look forward to seeing more Kyoto University students acquire true knowledge and wisdom by undergoing various experiences overseas to firmly establish their own identities," Mr. Masuda says.
(Interviewed in July 2018)