Vol.10 Interview with Donors

Yoshitomo Kasui
Born in 1959. Graduated from Kyoto University's Faculty of Economics in 1983. Joined Sumitomo Electric Industries, Ltd. in the same year. Became General Manager of the Human Resources & General Affairs Department in 2008. Became Executive Officer in 2012. Served as Managing Executive Officer from 2013 and then as Managing Director from 2014. Assumed his current position of Senior Managing Director in 2018.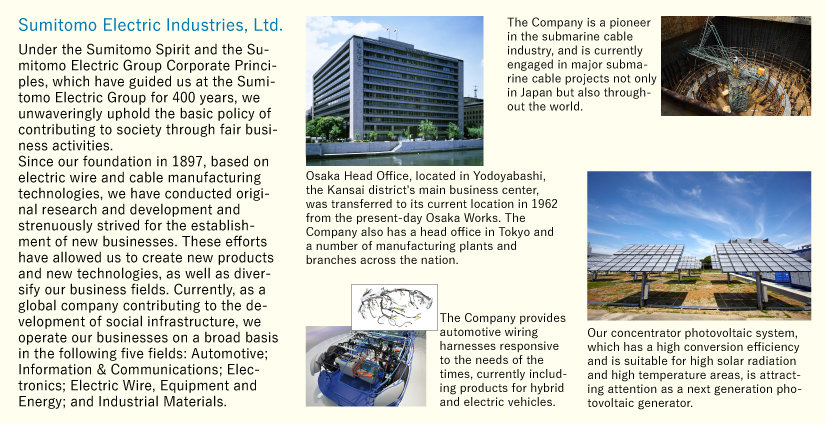 Q  Please share with us some of your memories of your days
  at Kyoto University
Not long after entering the University, I became extremely fascinated by some courses offered by the Faculty of Liberal Arts. I actually said out loud, "The liberal arts courses are exactly as I hoped them to be!" While attending classes I took not because I needed the credits but because they somehow attracted me, I realized what my interests and preferences were. I also realized after graduating that Kyoto University's academic tradition of freedom provides students with an environment in which they can listen to what their interests tell them to study.
Everyone has their own idea and opinion on what freedom is; mine is that freedom requires resolution. We all need to have a vision for the outcomes of our choices. In other words, we need to predict and take responsibility for the consequences of our choices.
For two years from the age of 24, I studied at Tsukuba University's Graduate School for Working Adults, which was one of the first of its kind in Japan. The company I was working at sent me with permission to study anything I wanted. This became a great opportunity for me to study a number of subjects that did not interest me in college, including modern economics and statistical analysis. In addition, by introducing me to another university, it gave me a new perspective from which to observe Kyoto University, helping me realize that I was lucky to be able to spend my college life at Kyoto University and in Kyoto City, which help students grow into broad-minded adults.
Q  Please provide Kyoto University students with a message based on
  your college experience
Back in my college days, each dormitory only had one phone, typically a pink public phone, so our means of communication was to speak in person. We would get together at a friend's place to discuss our thoughts, and often discover new sides of one another. We would learn from each other, gaining new perspectives for analyzing our thoughts. The same could be said about the business world. So, I recommend that Kyoto University students, rather than rely on social media, discuss their thoughts in person as often as possible.
What we learn in college may not always be applicable to business. In addition, college students have a long life ahead of them as working members of society. Therefore, what students need to acquire during college is a firm academic basis, to which new knowledge can continuously be added throughout life as necessary. Furthermore, doing business requires repeating a process of developing a plan, analyzing present circumstances, and testing it. I look forward to seeing Kyoto University students putting their self-study and flexible-thinking skills acquired through liberal arts education to good use.
I still get together a few times a year with my friends with whom I often spent my free time in and around the University's dormitories, i.e., those who were and those who were not affiliated with the same faculty or seminar as myself. The people with whom one spends his/her college life, sharing the same academic tradition and campus, become irreplaceable. I recommend that students follow my example after graduating by getting together with their friends from college and regularly familiarizing themselves with Kyoto University's latest events.
Q  What kind of efforts do you look forward to seeing Kyoto University
  make in this 125th anniversary year and after
Kyoto has the appeal to attract people, which the University should not be afraid to use. My company truly looks forward to seeing the international student education Kyoto iUP* program being successfully implemented as part of the University's 125th anniversary project. While I understand that the program's primary aim is to help students grow, I want the University to also think about ways to have international students become fans of Kyoto and Japan by not only helping them with their studies but also introducing them to Japanese culture, history, and life.
I also want the University to help international students form and maintain alumni associations. I believe that strong and extensive networks of people from overseas who studied at Kyoto University and experienced life in Kyoto City, i.e., people who can be expected to put what they learned to good use in Japan and overseas, should serve as building blocks for the University's future development. I recommend that the University incorporate such a perspective into their plans for helping international graduates.

*The Kyoto iUP (Kyoto University International Undergraduate Program) aims to help international students complete a Bachelor's (or Master's/Doctoral) degree program offered in Japanese, so that they can lead their lives in Japan by acquiring the expertise needed to develop into leaders who can help Japanese companies improve the country's economy by expanding globally.
(Interviewed in April 2019)