Vol.13 Interview with Donors

Jun Sawada
Born in Osaka Prefecture in 1955. Graduated from Kyoto University's Department of Civil Engineering in the Faculty of Engineering in 1978. Joined Nippon Telegraph and Telephone Public Corporation (now NTT) in 1978. Became NTT Communications Corporation's Senior Vice President in 2008 and then Senior Executive Vice President in 2012. Became NTT's Senior Executive Vice President in 2014, before assuming his current position of President and Chief Executive Officer in 2018.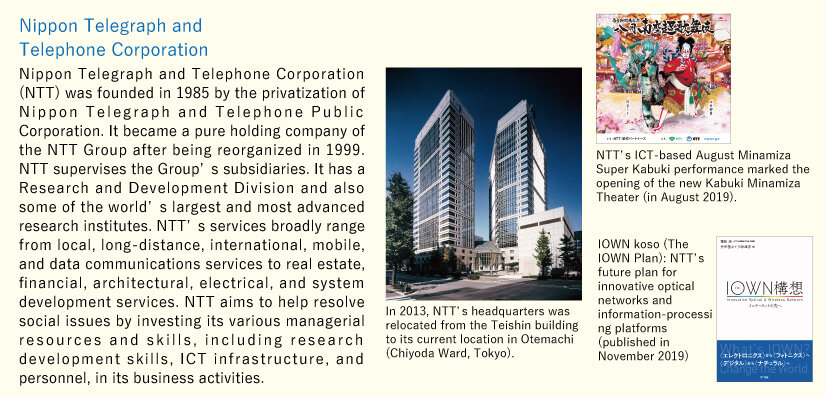 Q  What was your student life like at Kyoto University?
I can wholeheartedly say it was wonderful. Although it started off with me leaving the American Football Club near the end of my freshman year after I realized I was not physically or athletically cut out for the sport, which I started in college, my world expanded after that point as I came across many interesting people and books.
I helped administer the University's November Festival and also played the guitar on stage. In my sophomore year, we invited a famous singer, unfortunately who, due to an electricity blackout, had to perform without a microphone. While that was an accident back then, now it is one of my cherished memories. I once had an opportunity to examine and categorize the November Festival's unifying themes and made an interesting discovery; each theme reflected some relationship between the trends of its time and the attitudes of the then Kyoto University students.
My studies were secondary to other interests in my freshman and sophomore years. Subsequently, however, I took them more seriously because they became more specialized. I had an exciting laboratory supervisor and amusing lab mates, my countless memories of whom include lively drinking parties, a last-minute struggle to meet our thesis deadline, a first-time visit to Gion with our supervisor, and extraordinary advice we received from our instructors on career selection.
Although I only played on the American football team for a year, the experience became an important part of my life. In one of our games, I ruined my team's chance of scoring a touchdown by running the wrong route as a result of taking part in executing a play without understanding our coach's instructions. Subsequently, I was kept out of a number of games, after which I made it my rule to follow the proverb "To ask may bring momentary shame but to not ask will mean shame for a lifetime." In addition, my relationships with my former teammates continue to expand. Once every few months, I still get together with my former teammates, many of whom now serve as company executives, including some of my classmates who were affiliated with the same Department of Civil Engineering as myself.
I also still keep in touch with my friends from not only the Department of Civil Engineering or the American Football Club but all other departments in the Faculty of Engineering, whom I met in my French language course, which was offered as a liberal arts course. Relationships with both former teammates and representatives of various industries have become equally irreplaceable.
Q  What would you say were some of your favorite aspects of
  your days at Kyoto University?
Kyoto University is not a group of homogeneous people but rather absolutely full of all kinds of people. Its diversity is truly inspiring.
In addition, pursuing a college education in Kyoto University's culture of academic freedom provided me with invaluable experience. Freedom comes with total responsibility. Nothing happens unless you think, learn, and act on your own. Freedom also requires accepting the ideas of various people while cooperating with them at times and leading them at other times. Kyoto University helped me lay my foundations for these qualities and skills, which I believe are also essential for doing business.
Q  What kind of efforts do you look forward to seeing Kyoto University
  make in this 125th anniversary year and after, and is there a message
  you want to leave Kyoto University students with?
My expectations for Kyoto University are diverse.
With a commitment to academic freedom at its base, Kyoto University has great flexibility and tolerance for diversity and inclusion--the state created when people from diverse backgrounds come together and function as an interrelated whole--which potentially lead to dynamism. Academic freedom is an extremely important part of the University's culture, and I look forward to seeing more practices evolve from it.
In addition, I very much look forward to seeing Kyoto University help develop the expertise of the humanities. In collaboration with Professor Yasuo Deguchi of the Graduate School of Letters, our company has set up a project aimed at helping us lead rich lives in today's cyber-society by developing a new model of people and technological advancements living in harmony. With the highly advanced ICT that is being introduced into society having the potential of changing our lifestyles, we have an increasing need for philosophy today. With its tradition of the Kyoto School, foremost including Nishida's Philosophy, Kyoto University has the tools it needs to show its presence to the world by developing a form of philosophy responsive to coming needs.
In addition, I would like Kyoto University to cultivate Japanese winners of the Nobel Prize in Economics by helping its scholars radically transform their ways of thinking so that they can develop original economic theories that will give rise to new dynamism and innovation.
Furthermore, regarding its education system, Kyoto University should encourage students to take advantage of its academic freedom to make self-study their standard practice by applying its high academic standards to not only entrance but also graduation requirements. Kyoto University needs to cherish and preserve its tradition of academic freedom because that is its key to becoming a school that can attract students from all over the world.
Now, regarding myself, I once made a failed attempt at reading a highly philosophical book, which made me regret not taking more liberal arts courses. In addition to encouraging students to make self-study their standard practice, Kyoto University should help students discover the fun in learning by assisting its instructors in attracting their students' interest by opening their lectures with impressive introductions. The University can guide students toward the fun in learning by helping them start off on the right foot.
I want Kyoto University students to develop the wild courage to take on new challenges so they can lead their lives with their eyes always set on the future. Japan can reverse its economic decline and population shrink with innovation. I look forward to seeing Kyoto University students lead their lives with the resolution to carry the future of Japan on their shoulders.
(Interviewed in November 2019)