Vol.16 Interview with Donors

Hiroshi Shimizu
Born in Tokushima Prefecture in 1961. Graduated from Kyoto University's Faculty of Science and joined Nippon Life Insurance Company in 1983. Served as Department Manager of the Product Planning Department before assuming the positions of Managing Executive Officer and Department Manager of the Corporate Planning Department concurrently in 2009, Director and Managing Executive Officer in 2013, and Director and Senior Managing Executive Officer (in charge of the Investment Management Sector and Financial & Investment Planning Department) concurrently in 2016. Assumed his current position in 2018.
Is one of the domestically rare 1,700 or so certified actuaries, or specialists, who develop insurance products by using statistics and probability theory.

Q  What were your days at Kyoto University like?
They were fun because we were allowed to do as we pleased. Rather than spending all of my time attending classes, I often got together with my friends and discussed all sorts of things, visited shrines and temples, and read various books of different genres.
To help students become independent, Kyoto University traditionally allows students to spend their time freely, and this attracts a nationwide array of talented students interested in figuring out what they want to do with their lives. The four years I spent at Kyoto University, trying to figure out what I wanted to do, are invaluable assets because they not only helped me greatly on both conscious and subconscious levels in growing into the person I am today but also provided me with a rather bitter experience.
Q  What kind of experience was that?
Being allowed to decide how we wanted to spend our time was the University's way of informing us that we were "grown up" enough to guide ourselves through the substantial resources it offered and choose the courses we needed to take based on what we wanted to do. However, I made the mistake of basing my decisions of what courses to take entirely on my preferences. Back then, I wanted to become a mathematician. But, because I only studied the areas of mathematics that interested me, I missed some others I needed in order to pass the entrance examination administered by the graduate school I wanted to enter. In other words, I failed in designing the study plan I needed to acquire a solid foundation on which I could build mathematics expertise.
Back in high school, I was one of those students who studied so hard that others mistook me for a genius. So, I thought I would be able to continue outperforming others in college as well. However, many students who attended Kyoto University were actual geniuses. In addition, I realized that studying in college was completely different from learning in high school and came to accept I was no competition for them. I felt like a frog in the well that knew nothing of the great ocean. I was not exactly devastated, but finding out where among my peers I stood in terms of academics was a bitter experience.
Q  Is there any advice you can give Kyoto University students,
  based on your experience?
Yes, there are two pieces of advice. One is that we need a broad knowledge and extensive experience if we want to truly understand our surroundings. Another is that our decisions of what we should do at any given time need to be based on an accurate understanding of the limits of our abilities. These realizations have guided me throughout my life.
I always encourage young workers to invade other department territories. Young workers should not restrict themselves to only performing their duties or doing what their job requires them. They need to dare invading other department territories to find out what other departments do if they want to broaden their knowledge and experience, learn about themselves, and keep growing.
Q  I am interested to know why you joined a life insurance company
  since you have a mathematics background?
After failing in my graduate-school entrance examination, I was at a loss of what to do, so I went to the University's career support office to see what kinds of paths previous students had taken. There, I found out that a fair number of them regularly joined life insurance companies. This caught my interest, so I asked for more information on the industry and learned that life insurance companies needed actuaries that had sufficient mathematical skills to set premiums and predict future uncertainties. Since I began job-hunting after the graduate-school entrance examinations, the early part of my job-search season was over by then. However, luckily for me, the first company that interviewed me--Nippon Life Insurance Company (NISSAY)--accepted me, and three years later, I was a certified actuary.
Although I have previously been introduced in some articles as NISSAY's first president with a science background, I have never particularly managed the company from a science perspective. However, I do tend to try to understand the entirety of things by assembling individual pieces of phenomena. In addition, I place importance on logic in managing my company and analyze phenomena based on whether taking some action would be logically valid.
In business, all things are organically related. Dealing with one issue requires making comprehensive decisions with an eye on other possibly related matters. So, I find my science mindset very useful because it helps me thinking structurally.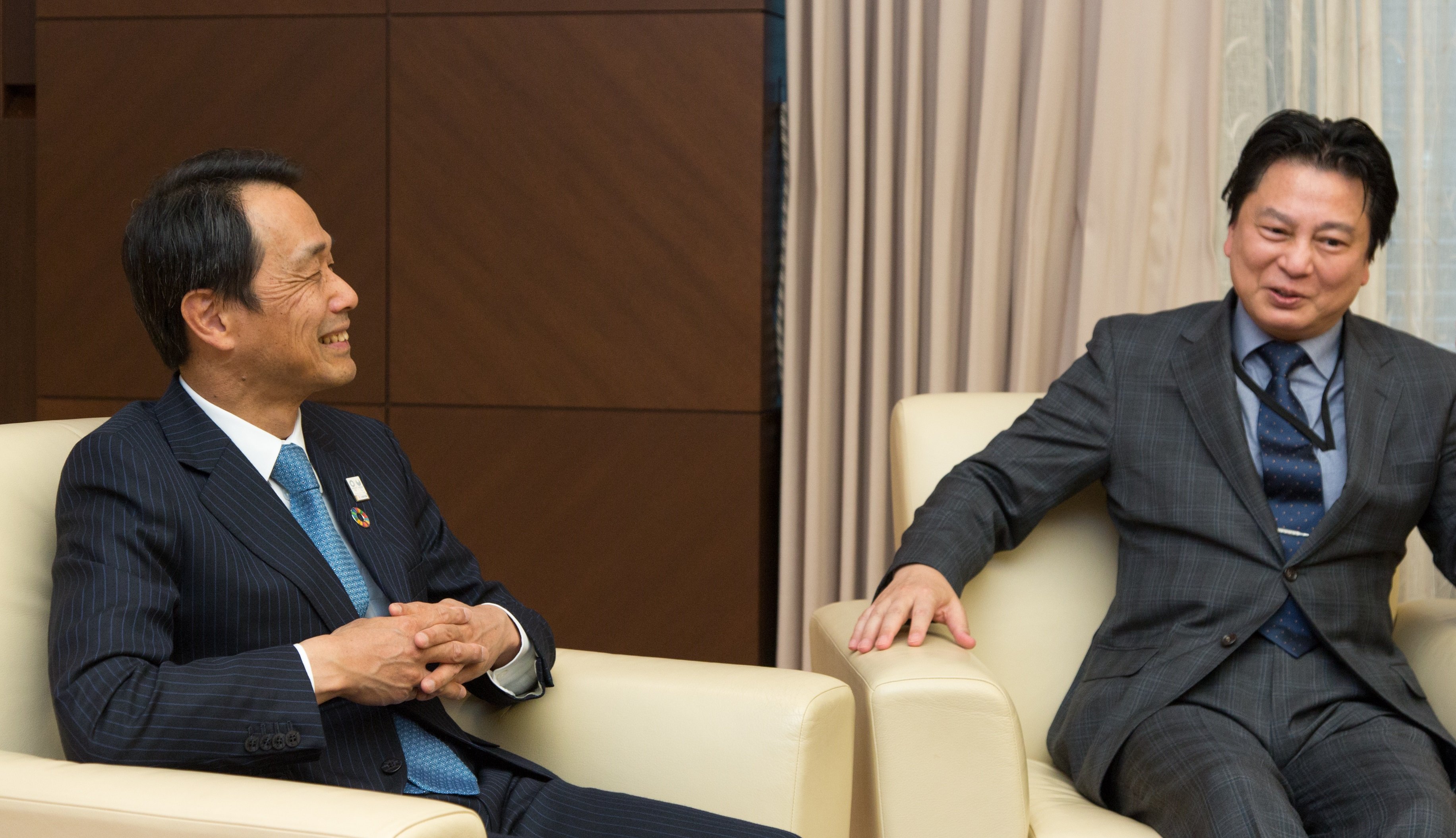 Q  Is there a message you would like to leave Kyoto University students
  with, based on your college experience, and anything you would like
  to say on the University's upcoming 125th anniversary?
I regret not studying very hard during college and assume the same applies to any other Kyoto University graduate who may have been academically lazy. I particularly regret not realizing the value of liberal arts education.
For instance, Eastern philosophy may not be directly useful to an insurance company worker. However, the mode of thinking it introduces provides us with a means to think deeper from broader perspectives. So, I advise Kyoto University students to absorb as much liberal arts knowledge from the University's extensive array of courses while they can.
As I said earlier, Kyoto University attracts a diversity of talented students, interested in freely pursuing their own interests. Interacting with other such talented students is where the value of attending the University lies because such opportunities are what helps students grow, develop new skills, and come up with productive ideas, which at the same time are what helps the University produce more innovations and talented graduates. I know that no university can continue producing outstanding achievements every single year. However, I look forward to seeing Kyoto University uphold its value so that it can continue being productive.
(Interviewed in March 2020)