Vol.2 Discussion forum with alumni

COSAIEN TANEDA
The company, which was established in 1837, is the oldest in the kyo-kanoko shibori industry. Using the traditional technique of kyo-kanoko shibori, it manufactures Japanese accessories. By applying shibori technique to not only silk cloth but also linen, cotton and leather cloth, it also focuses on research regarding processing technology, and explores new markets for shibori.

President Yasuo Taneda
Yasuo Taneda was born in Nara. After graduating from Kyoto University Faculty of Pharmaceuticals in 1991 and from the masters program at Kyoto University Graduate School of Pharmaceuticals in 1993, he worked for a pharmaceutical company to develop drugs for diabetes and AIDS. After his marriage, he became aware of kyo-shibori, which is her wife's family business, and entered the company in 1998. He was appointed President in 2010.

ITOCHU Co., Ltd.
The company is a time-honored Japanese footwear store established in 1895. It pursues the "aesthetics of underfoot", a hidden point of the beauty in Japanese dress. It creates elegant Japanese footwear, incorporating traditional artisanship of dyeing, weaving, and sewing cultivated in the ancient city of Kyoto.

President & CEO Tadahiro Ito
Tadahiro Ito was born in Kyoto City and graduated from Kyoto University Faculty of Law in 1997. He worked for a media related company and joined ITOCHU Co., Ltd. in 2000. He was appointed as President and CEO of ITOCHU in 2010. Beside its Japanese footwear business, he set up a souvenir business and span it off in 2012 to establish SOUVENIR Co., Ltd.


Ikebana Arrangement Misho-ryu Sasaoka school
The Misho-ryu Sasaoka school was founded in 1919 by Chikuho Sasaoka. Sasaoka style Moribana was created based on the philosophical theory of Misho-ryu (founded at the beginning of the 19th century by Ippo Mishosai in Osaka) to arrange flowers framed in an isosceles right triangle. The school has tradition and innovation.

Iemoto (grand master) Ryuho Sasaoka
Ryuho Sasaoka was born in Kyoto City. At the age of three, he received guidance from the second iemoto Kunpo Sasaoka, his grandfather. He graduated from Kyoto University Faculty of Engineering, Undergraduate School of Architecture in 1997. He completed master's program at Kyoto University in 1999 and dropped out from the doctoral program in 2000. He took over the third iemoto in 2011.


Shogoin Yatsuhashi Sohonten Co., Ltd.
The company is a Japanese confectioner established in 1689 and has been in business for more than 320 years. After the death of Yatsuhashi Kengyo, the "Father of Modern Koto", a confectionery resembling koto and called "yatsuhashi", was sold at the area of Shogoin. This is said to be the beginning of yatsuhashi.

Executive Managing Director Kanako Suzuka
Kanako Suzuka was born in Kyoto City. After graduating from Kyoto University Faculty of Economics in 2005, she worked for a credit research company. In 2006, she joined Shogoin Yatsuhashi Sohonten Co., Ltd. In 2011, she opened a shop "nikiniki" to provide new ways of eating Yatsuhashi.

Kyoto is a "large countryside"
Deep social relationships are useful in business
TanedaI understand that Ito-san and Sasaoka-san are the same age and you two have known each other since kindergarten and Suzuka-san was taught by university students Ito-san and Sasaoka-san at a tutoring school when you were an elementary school student. You already have a long-term relationship, so please feel free to talk frankly. I was not born in Kyoto and I took over my wife's family's business. You three were all born in Kyoto and took over your family businesses.
SasaokaKyoto is like a "large countryside". People associate deeply with each other and successors receive a sort of special treatment. It is a little thing, but when it accumulated, I've come to realize that the heir is special and I have to keep working hard.
SuzukaI've been attending my company's events ever since I can remember, so I was dimly aware that I had to take over the business of my family. While I think I decided to do so by myself, I might have been directed to do so by the people around me.
ItoI first talked to my parents about taking over the business when I was a university student. At that time, my father said "this is not a good job to look for as a graduate of Kyoto University". He told me that kimono industry was shrinking and I should do what I want to do. I took that with a grain of salt, but I understood it's not an easy business.
TanedaWhat do you think makes Kyoto "Kyoto"? Please tell me from the perspective of people who were born in and live in Kyoto.
SasaokaWherever I go, there's a friend or a common friend, and the circle of friends will expand. This is the interest of Kyoto. You may feel constrained, but it's actually rather easygoing.
SuzukaI feel comfortable since someone always helps me.
TanedaIn Hanamachi, I sometime see an owner of another shop being told by a geiko about something that his father or his grandfather said. Even the words that he actually did not hear directly from his father or grandfather come down to him in this way. I was surprised by the strength and breadth of connection.
ItoI once had a conservative image of Kyoto, but people in the city like new things while they value the old as well. I believe that the old and the new come together in one person or one community, which results in an original, unique culture, which makes Kyoto "Kyoto".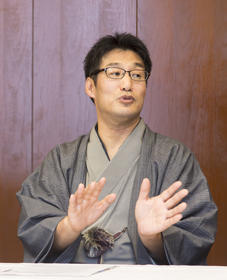 By understanding a perfect balance between
"what can be changed and what cannot", you can try new things
TanedaAs a person involved with traditional industry or artistic culture, you probably are often asked about this, but what do you think about "something you can change and something you cannot change"?
SasaokaBasically, I think we can change anything. Tradition constitutes a series of innovations. However, it's also true that historical things have advantages and benefits and cannot easily disappear. For example, in ikebana arrangement, the philosophy of beauty of "arranging flowers framed in an isosceles right triangle", which was created in the Edo period (1603-1868), is not the only answer, but will probably survive in the future, even if we don't try to uphold and maintain it. It has such power and strength. So I believe that we have to focus on changing traditions to fit the times and seeking something that fit the times, not on upholding and maintaining traditions.
SuzukaOur company makes confectionery, so what we cannot change is "making delicious products". While we follow the definition of yatsuhashi, "mixing rice flour and sugar and flavored with cinnamon", we also change the ingredients combined with it in response to people's taste and preference that change with the times. We eat yatsuhashi every day and if we feel that it needs some more cinnamon, we will change the amount of cinnamon. I believe that former managers have done much the same as we do. In the long run, the taste of yatsuhashi has changed with the times.
ItoI worked on new business such as sundries separately from ITOCHU, and I don't think that I have changed anything. There are rules that I should stick to, which relate to customer touch points. For example, regarding zori, we respond to small orders at a nominal fee, but this directly relates to the image of footwear shops and we cannot change it.
One question I would rather ask you is this. What did you dare to change and what were the consequences?
SasaokaUnlike the previous iemoto, I personally go outside as iemoto and a publicist. Also, I decided to held ikebana exhibitions at Buddhist temples to go back to the roots of ikebana arrangement, "to respect space". However, I changed things in natural way and I don't think I did anything drastic.
SuzukaWhen I was an elementary school student, my mother opened a café which offered novel menu items such as mille-feuille made up of layers of nama yatsuhashi (unbaked yatsuhashi). I loved the tastes of them very much, so I decided to make them myself since I wanted to eat them again. I just wanted to create products with a long-forgotten taste for me and open up an opportunity for people to discover the charm of yatsuhashi.
ItoI think you can change things and try something new in tradition since you understand a perfect balance between tradition and innovation.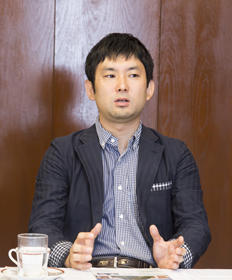 Is what you've learned during at Kyoto University useful
for your job?
TanedaI went to Kyoto University in the midst of the economic bubble. There were many world-leading researchers at the laboratories of the Faculty of Pharmaceutical Sciences. It was the golden age of the University's football team and the age filled with high emotion.
SasaokaI always went to university at night. Around 10:00 pm, people came to a drawing room and we drew a plan, went to eat dinner and sometime went to drive. Actual measurement of old buildings is one of many pleasant memories of my college days.
Suzuka Our instructor at the seminar I participated in was a Hanshin Tigers fan and we even went to Koshien Stadium. And in the following class, we discussed the economic effect of the Tigers winning the league. When I was worrying about whether to study abroad, the instructor pushed me to go.
ItoI seldom attended classes. I was a student of the Faculty of Law, but I wasn't eager to going into the law in the future. If I was able to notice I could get something that would lead to my future career from learning at university other than professional training, I could have had a different campus life experience.
TanedaMy lab members were very busy themselves in preparing their presentations at academic meetings especially in the homestretch. They patiently collect data. At that time we drew graphs by hand, and talented researchers never compromised. The same is true of the people I meet now at work. They never give an inch to do a better job and thoroughly make a final push. I also went into the field different from what I learned at university, but it was a great asset for me to get a close look at the way leading researchers do their work.
Sasaoka I majored in the history of Japanese architecture. There are many common aesthetic values between Japanese architecture and Ikebana arrangement, such asymmetrical design. I realized that the beauty of ikebana, which I experienced and worked in, is theoretically supported. My work is to logically introducing ikebana. I've come to believe that introducing ikebana will lead to introducing Japan.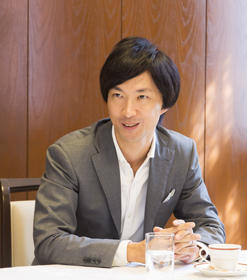 The key to Kyoto's future is collaboration between
the university and the local community
TanedaWhat do you think is Kyoto's future from your respective positions?
SasaokaI would like to make Kyoto a place where people from all over the world can meet someone in various fields if they come to Kyoto, like we meet someone everywhere we go.
SuzukaThe good point of Kyoto is that old traditions and customs still exist in everyday life. In order to continue to keep them up in our daily life, the provider of such traditions and customs need to make it easier for people to incorporate them into life. For me, I need to make yatsuhashi more delicious so that people can eat them every day.
ItoWhat we, small and medium-sized traditional industries, should do is to explore and create business opportunities while the value of Kyoto as an international tourist city is growing. Boosting traditional industries will lead to the activation of the city.
TanedaWell, finally, if you have anything you expect of Kyoto University, please tell us.
SasaokaI believe that "multiplication" will be an important keyword of future Kyoto. Something new will be created by multiplying cultures. This year, I took part in the event celebrating 400 years of the Rimpa school of Japanese painting, together with a professor of Kyoto University and a Kyogen actor. I believe that this may have been only possible because of Kyoto's situation where there are history and tradition and bearers of the culture in various fields. I hope to create more opportunities for people all over the world, let alone Kyoto University, to participate in the "multiplication".
Suzuka "Globalization" is being talked about a lot, but if local people and the university work together in a cooperative way, something interesting must be able to be created.
ItoI would like to say something about job hunting by Kyoto University students. I agree with the opinion that they should play a role in bearing the country's future. However, this does not mean being a politician or working for a large company only. They may show their ability to the fullest by working for a small or medium-sized business or starting a business. Accordingly, I would like to ask the University to offer students a range of options. By taking advantage of the skills of each individual, the power of Kyoto, as well as the power of Japan, will be strengthened.
TanedaFor our industries, universities are the foothold that may secure technologies. Previously, when a shibori industry in Nagoya tried to file a patent application on a technology, we asked a researcher at Kyoto University to perform an investigation and the technology was defined as a technique developed in Kyoto. As for current problems with traditional industries on the succession of skills, I would like to ask for a push by Kyoto University to one solution of making clear standards.
Although there are differences among you on what you imagine in your mind from your respective positions, I notice again that everyone has the same feeling to boost Kyoto by fostering collaboration between the university and the local community. Thank you for coming today.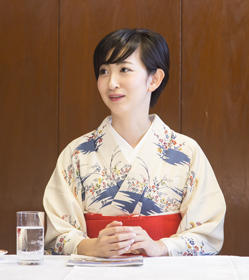 (Held in September 2015)
■Kyoto University Rakuyu Kaikan■
Rakuyu Kaikan was built in 1925 in commemoration of the 25th anniversary of the foundation of Kyoto University. It is a two-story, tile-roofed, reinforced concrete building and its exterior and interior decoration based on the Spanish Mission Style shows the characteristics of architectures in the Taisho period. It was designated by the national government as a registered tangible cultural property in 1998. In September 2010, the renovation of the building was completed and it is now restored as a hall with meeting rooms and a restaurant, in which the flavor of the Taisho period remains.