Vol.3 Discussion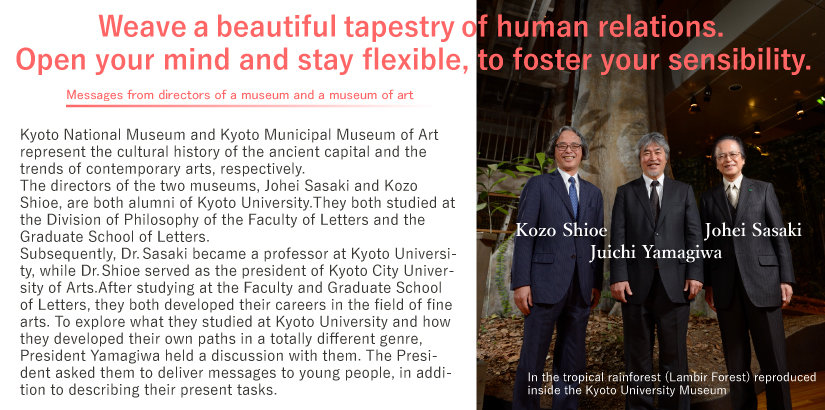 Johei Sasaki
Director of Kyoto National Museum
President of the National Institutes for Cultural Heritage
Johei Sasaki was born in Hyogo Prefecture in 1941. In 1965, he graduated from the Division of Philosophy of the Faculty of Letters of Kyoto University, where he majored in aesthetics and art history. In 1967, he completed the master's program at the Graduate School of Letters. In 1970 he completed courseworks for the doctoral program and joined the secretariat of Kyoto Prefectural Board of Education as a technical staff member. In 1972, he joined the Fine Arts Division of the Cultural Properties Protection Department of the Agency for Cultural Affairs. In 1979, he began his service as a senior cultural properties specialist for the Agency. He earned his doctorate in literature in 1990 from Kyoto University. Subsequently, he assumed various posts, including professor at Kyoto University, director of Kyoto University Library, and director of Kyoto University Archives. In 2005, he was appointed Director of Kyoto National Museum. In 2007, he was also appointed President of the National Institutes for Cultural Heritage. He received the Kokka Award in 1997, the Japan Academy Prize in 1999, and the Humboldt Prize in 2000.


Kozo Shioe
Director of Kyoto Municipal Museum of Art
Kozo Shioe was born in Kagawa Prefecture in 1947. He graduated from the Division of Philosophy of the Faculty of Letters of Kyoto University in 1969, where he majored in aesthetics and art history. Upon completing courseworks for the doctoral program at the Graduate School of Letters of Kyoto University in 1974, he began serving at Kyoto City University of Arts as an assistant in the Faculty of Fine Arts. His lectures covered a broad area of Western history of art, from the Middle Ages to the 20th century. In 1994, he was appointed as a professor. In 1998, he received his doctorate from Osaka University, having written his thesis on William Blake as a copperplate engraving artist. In 2007, he became President of Kyoto City University of Arts, and in 2011 Director of Kyoto Municipal Museum of Art. Although he resigned as President of Kyoto City University of Arts in 2012, he continues his service as a professor emeritus. He specializes in early modern and modern Western arts, particularly those of Nicholas Hilliard, William Blake, John Constable, and Joseph Turner.

What made you select either Japanese or Western arts?
YamagiwaI understand that you both entered the Division of Philosophy of the Faculty of Letters of Kyoto University. However, Dr. Sasaki majored in the history of Japanese art, while Dr. Shioe selected the history of Western art. Director Sasaki, did you decide your major shortly after enrolling at the university?
SasakiWhen I entered the university, I was more interested in Western art, but one day, a professor of liberal arts told me, "Japanese art is nice, too." Since my father loved Japanese art, I used to view hanging scrolls at home. So the professor's words ignited a flame of curiosity in my mind. I suddenly became interested in Japanese art, and of course, I found Kyoto was an ideal place to study Japanese art.
Yamagiwa In my childhood, I was also interested in Western things. At that time, many Japanese thought anything Japanese was old-fashioned, and Western things were more valuable. Director Shioe, is this the reason you selected the history of Western art as your major?
ShioeWhen I was in senior high school, I read a book by Professor Tsutomu Ijima and decided to major in aesthetics. Later, however, I became more interested in the history of art, since I was more attracted by studies of concrete works rather than conceptual thoughts in aesthetics. Since I was less familiar with Western art, I decided to study this field to explore what I didn't know well. It was a strange decision, however, since at that time there were no professors at Kyoto University who specialized in the history of Western art.
YamagiwaMay I ask why you were more fascinated by studies of real objects than theoretical studies?
ShioeIn theoretical studies, you work to find a single logical conclusion. However, artworks do not allow you to reach a logical conclusion. You may have totally different impressions about the same work, depending on your viewpoint and your own age when you see the piece. An artwork has an extremely complex structure, which I found fascinating. I was also interested in a seminar on the history of art. In the seminar, we visited temples and shrines and observed the fine art works in their custody. Listening to the explanation given by the professor, and discussions held by senior students, I interpreted the works in my own way. This experience convinced me of the fact that there were multiple ways to understand and appreciate artworks.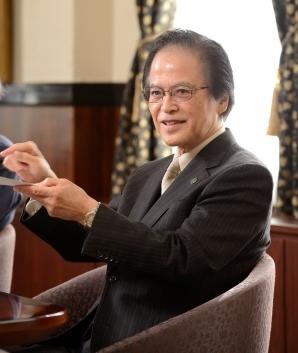 You two have selected to work in the front line of the protection
and creation of cultural properties.
YamagiwaDirector Sasaki, so you became aware of the value of Japanese arts at Kyoto University. How did you develop your career after graduating from the university?
SasakiDuring my student days, I worked as a part-timer at the Cultural Asset Protection Department of the Kyoto Prefectural Board of Education. I assisted in the preparation of catalogs of rare items and onsite surveys. Upon completing courseworks for doctoral program, I became a staff member of the Board of Education. This is because I'd learned that the history of art as an academic discipline was supported by people dedicated to the protection and preservation of cultural properties, which comprise essential research materials. In other words, I learned that in order for people to study the history of art, research materials must first be protected and preserved. Subsequently, I became a senior cultural properties specialist of the Agency for Cultural Affairs, and engaged in the protection of cultural properties throughout Japan. Finally, I began serving at a museum, whose task is to protect cultural properties and display them to the public.
YamagiwaMy research targets are gorillas, which do not produce artifacts. So they do not leave any trace of cultural activities. On the other hand, human beings produce artworks, which convey not only the producers' intentions and their personal feelings, but also the cultural history associated with their production. In this context, in addition to simply preserving cultural properties, I believe that your task includes clarifying the background of their production and passing it onto future generations.
SasakiYes, exactly. When we analyze artworks, we explore the materials and techniques used in their production. In addition to these superficial analyses, we must also consider the background to the creative activities, which comprises multiple layers. As well as the experiences and thoughts of the individual artists, the artifacts represent the history and tradition accumulated in the society they belong to. The artifact you see is, in fact, just the tip of the iceberg. Accordingly, researchers of artworks must constantly pay meticulous attention to the part of the iceberg hidden under the water.
I often compare art and culture to trees. Just like the foliage of a tree is supported and sustained by its roots and trunk, contemporary culture has its basis in traditional culture. So it is a vital task for us to study the root of contemporary culture and pass it on to future generations.
YamagiwaDirector Shioe, I understand that immediately after completing courseworks for doctoral program, you became an assistant at Kyoto City University of Arts.
ShioeAt the graduate school, I studied about William Blake, who was simultaneously a poet, a painter, and a copperplate engraving artist. Shortly before completing courseworks for the doctoral program, I presented a paper on William Blake at a meeting of the Japanese Society for Aesthetics. Fortunately, the thesis was carried in a journal of the history of art. This paved the way for my employment by the university as an assistant, whose tasks included giving lectures.
YamagiwaI suppose you have encountered various challenges at the university, which is the front line of creative activities, since you had been a researcher of the history of arts, rather than an artist.
ShioeYes, I've encountered various challenges. For example, I found that it was difficult for many of my art students to understand and feel empathy for artists of the past, because of the great gap of time. I tried to thoroughly explain the values embraced by artists of various past epochs. By filling the gap that hindered understanding, I encouraged my students to interpret artworks more freely. I also believe artists should be able to describe their works using words. However, most students start creative activities without the training of verbalizing them. Accordingly, it was the role of faculty members with an academic, rather than an artistic, background to provide the students with verbalizing training.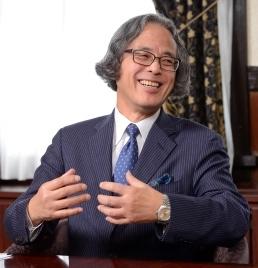 Quest of ideal exhibition methods
at a museum and a museum of art
YamagiwaYou are both researchers and directors of either a museum or a museum of art. So could you tell me about ways of exhibiting artifacts and the associated challenges?
SasakiWe do not have an explicit rule, but we share the understanding that a museum should handle artifacts from the Jomon Period (ca 12,000 BCE-ca 300 BCE) and the Yayoi Period (ca 300 BCE-ca CE 300) to the end of the Edo Period (1603-1868), or the early Meiji Era (1868-1912) at the latest. Artworks produced in later periods are to be managed by a museum of art. This means that a museum handles very old items. So our first concern is to create and secure an optimal environment for our collection in terms of temperature, humidity, and lighting intensity. As the staff of a museum located in Kyoto, an international tourist city, we are expected to plan exhibitions that will be enjoyed by visitors from around the world. Overseas visitors often ask us why we do not exhibit the same objects that were displayed a year before. At the Louvre Museum, for example, you can always see the Mona Lisa. However, we cannot display the same object for a long time. We change our exhibits nearly every month.
YamagiwaThat sounds very frequent. Is it because of Japan's climate?
SasakiNo, it is because of the materials of the artworks. Many Japanese cultural properties are made of paper, wood, and lacquer. Moreover, the glue used to cement materials together is sensitive to temperature and humidity, and cannot withstand long-term exhibition.
ShioeIn that sense, oil paintings are much more durable. The most important element in exhibiting them is the lighting technique. For the sake of preserving exhibits, we must control the light intensity. At the same time, however, we must seek the optimal way to highlight our exhibits. Another element we prioritize in our museum of art is adding a story to an exhibition. We arrange artworks in the optimal layout to illustrate their historical backgrounds and production processes. At the same time, we are seeking the best way to spotlight the originality of works of diverse structures.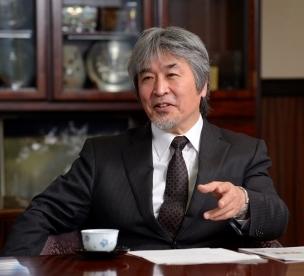 Raison d'etre of Kyoto University, Kyoto National Museum,
and Kyoto Municipal Museum of Art.
YamagiwaI believe that it is very meaningful that Kyoto University was founded as the second imperial university in Japan. Prince Kinmochi Saionji, who led the founding of the university, envisioned that, unlike Tokyo University, Japan's first imperial university designed to produce bureaucrats, Kyoto University should have a free academic atmosphere. Thanks to this historical background, Kyoto University has been able to develop its own unique academic culture, and to produce excellent researchers. I would like to ask you two the same question: What is the raison d'etre of Kyoto National Museum and Kyoto Municipal Museum of Art?
SasakiAfter the Meiji Restoration (in 1868), the Japanese government placed the utmost priority on building a powerful modern nation that could compete with the Western powers. To that end, the government promoted industries and invigorated cultural activities. In 1872, the government held the first national exhibition in Tokyo, which led to the establishment of Tokyo National Museum. Since then, the museum has fulfilled its role as a showcase of Japanese culture and its integrated characteristics. On the other hand, cultural properties and traditional culture in Kyoto were on the verge of extinction due to the surge of the anti-Buddhist movement and the introduction of Western culture, which triggered radical changes in values among Japanese people.
Amid this environment, Ernest Fenollosa and Tenshin Okakura commenced a movement to protect traditional Japanese culture. After surveying cultural properties in Kyoto, it was decided that a museum should be founded to protect the traditional culture. So the purpose of establishing our museum differs from that of Tokyo National Museum. Moreover, since Kyoto has a 1200-year history, the city has cultural properties throughout the city area. We should thoroughly survey the existing properties, discover unknown artifacts, and exhibit them in the best possible way. This is the policy of Kyoto National Museum.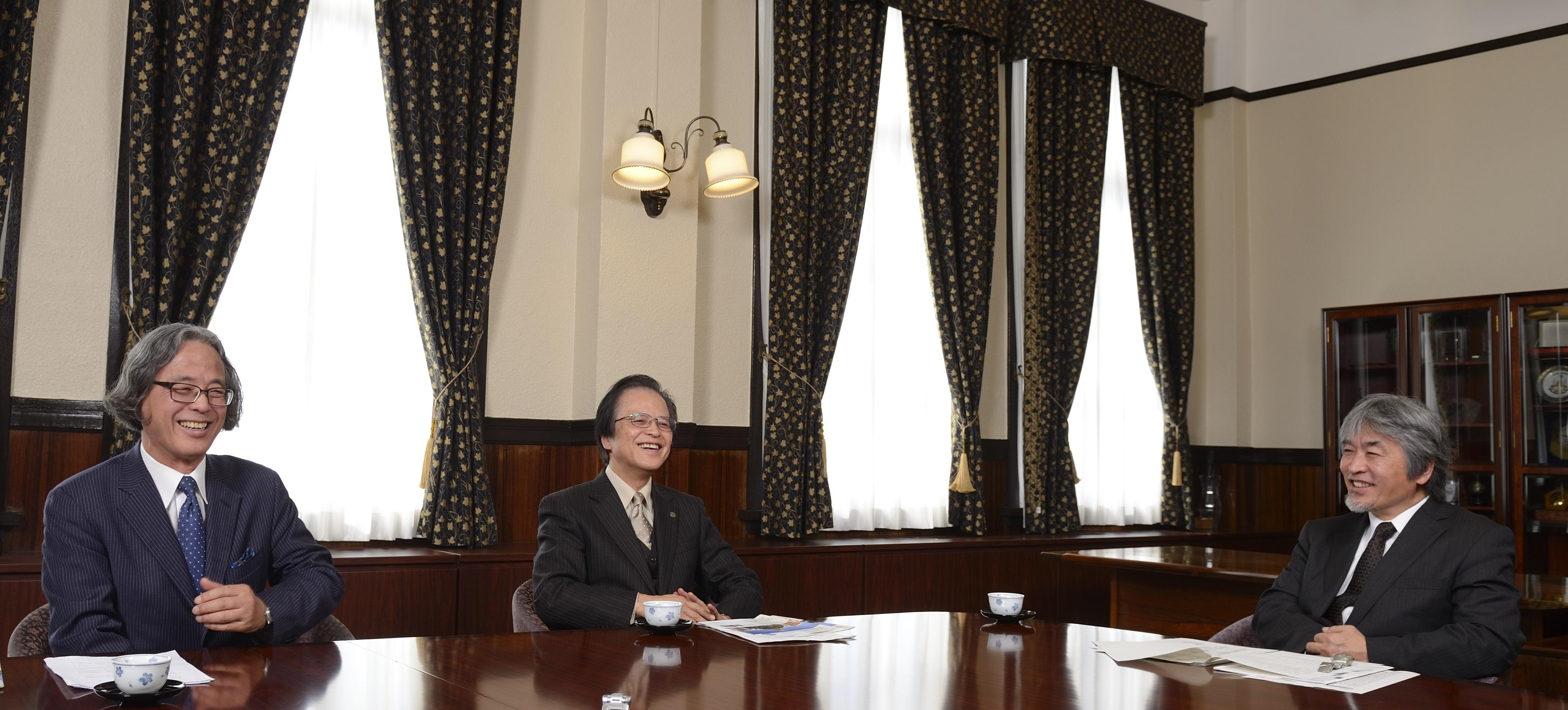 ShioeKyoto Prefecture Art School, the predecessor of Kyoto Municipal Museum of Art, was opened in 1880. Following the transfer of Japan's capital city from Kyoto to Tokyo, fine arts in Kyoto were waning, mainly due to the loss of patrons and the decline in traditional culture. In this environment, Kyoto artists planned to establish an art school to pioneer a new path. Residents of Kyoto also supported their plan to develop painters and craft artists and to export their works. I believe that Kyoto people are truly resilient. They also keep their spirit of autonomy. Kyoto Municipal Museum of Art was established with donations from citizens. Under the leadership of Seiho Takeuchi, a leading artist of Japanese-style painting, many artists in Kyoto donated both funds and artworks, the latter of which comprise the core of our collection. Because of this background, citizens of Kyoto regard our museum as their own asset, and are extremely demanding about our exhibitions.
YamagiwaI understand that the museum of art is currently undergoing remodeling. In that project, do you plan to better meet citizens' expectations?
ShioeFirst, to promote modern arts in Kyoto, we will organize a permanent exhibition, which we have not done to date. Next, we will prepare a gallery to exhibit works of contemporary artists. Although talented contemporary artists in this region once went to Tokyo to seek more opportunities for their creative activities, currently many such artists stay in Kyoto and Osaka. So they will be able to use our new facility to display their works. We also plan to open a "white cube" for contemporary artworks to foster still younger artists. Since our museum of art has been supported by citizens and artists in Kyoto, I believe it is our mission to foster young artists and support their creative activities, so that our museum of art will remain an essential treasure house of cultural assets 100 years from now.
What should students do at university
to develop their future careers?
YamagiwaI would now like to ask for your advice to students. To develop their future careers, what sort of potential should they develop during their student days? Director Sasaki, I heard that shortly after enrolling at the university, you traveled throughout Japan with a new American friend. I'm sure that few Japanese students at that time had such opportunities to make friends from overseas and learn about foreign culture firsthand.
Sasaki I still keep up my friendship with him. It was truly a valuable experience for me to meet him on the campus. Today, students have ample opportunities to foster friendship with people from various parts of the world. I truly hope that students will become more active toward developing such friendships.
As for myself, however, since my student days I haven't been good at expressing my opinion. Rather than speaking out, I listen to what others have to say. Even now, to fulfill my role as the director of the museum, I always listen to others' views and moderate various opinions to find the best solution that will be accepted by all the people concerned. Nowadays, young Japanese students are encouraged to develop their own views and to speak out. This is certainly one important ability that they need to develop. At the same time, I hope students will develop the ability to listen to others carefully, to understand them thoroughly, and consider their words deeply to find the best solution.
I believe that culture is something like a tapestry, woven with warp and weft threads. To produce a beautiful tapestry, an exquisite balance should be sought between the warp and the weft. The same is true of culture and human relations.
YamagiwaCertainly. Leaders need the ability to moderate among people with different views. At Kyoto University, we uphold "Independent and Interactive Learning" as a motto. Rather than studying alone, students are encouraged to develop their own views through interactive learning.
Director Shioe, will you give a message to students aspiring to engage in fine arts?
ShioeSince Japan's fine art market is diminishing, if you aspire to become an active player in this field, not only as an artist but also as a curator, you will need the ability to negotiate with non-Japanese parties on an equal footing, and give presentations on the global stage. I believe it is very beneficial for you to spend your time on the campus of Kyoto University and enjoy its academic freedom. At the same time, however, you will surely need to have firsthand experience outside the campus, particularly in the front line of creative activities, including overseas front lines.
It is most essential to develop your sensibility. To this end, you need to open your mind to assimilate various foreign elements. Your knowledge and language proficiency, which you can acquire at the university, will surely help you. They are essential tools with which you can expand your potential. Please view many artworks by various artists so as to foster your sensibility, and creative power, which should be both original and flexible.
To foster your sensibility,
visit museums and museums of art.
YamagiwaStudents who are majoring in natural sciences particularly tend to focus their power of imagination and creation on the quest for higher performance and efficiency. Beauty, however, is something different.
Unfortunately, the present campus of Kyoto University is not ideal for fostering students' sensibility toward beauty.
Sasaki・ ShioeSo students should visit museums and museums of art.
YamagiwaYes, I want them to visit these facilities.
SasakiI would like to tell students to come to our museum. They don't have to see the exhibits. They can just attend an event. The term "museum" originates from mouseio, an ancient Greek term denoting a temple dedicated to the Muses, that is, a place where all sorts of sensibilities are gathered. So I want to tell students to visit any museum and soak up its unique atmosphere.
ShioeAt museums of art, you could pay attention to the layout of the artworks, which gives a hint about the intentions of the curators who arrange the exhibits. You can also imagine historical interpretations, which help you sharpen your own sensitivity. Museums and museums of art can serve you best in this way.
YamagiwaI want to strengthen the ties between Kyoto University on the one hand and museums and museums of art on the other. Through the tie up, I hope to expand our campus to the entire area of Kyoto City. Director Sasaki and Director Shioe, please join me in working to develop young students' sensibilities. Thank you very much for joining me today.
(Discussions held in February 2016)
■Kyoto National Museum■
The museum, opened in 1889, has a collection of approximately 13,000 items, including objects entrusted by temples and shrines in Kyoto, along with artworks and cultural properties of Japan and East Asia. The Heisei Chishinkan Wing displays exhibits under the following categories: archaeology, ceramics, sculptures, paintings, calligraphy, textiles, lacquer ware, and metalwork. The Meiji Kotokan Wing (Special Exhibition Hall), built of red bricks and designated as an Important Cultural Property, is currently closed due to a remodeling project under way.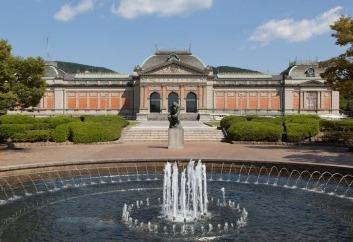 ■Kyoto Municipal Museum of Art■
The museum of art was opened in 1933 in commemoration of the enthronement of Emperor Showa, held in Kyoto (in 1928). It is Japan's second largest public museum of art, the first being Tokyo Metropolitan Art Museum. Its collection comprises approximately 3,100 pieces produced between the Meiji Restoration (1868) and the beginning of the 1990s, including Japanese paintings, Western-style paintings, sculptures, craftwork, calligraphy, and woodblock prints. In addition to exhibitions of overseas artworks and publicly sponsored exhibitions, private events are held in the facility by art circles.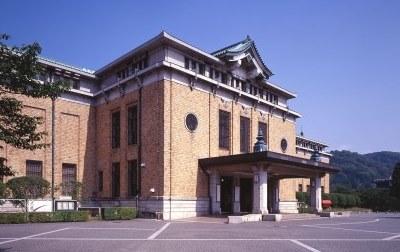 ■The Kyoto University Museum■
The museum, one of the largest university museums in Japan, has a collection of approximately 2.6 million academic samples that have been gathered by the university since its founding. The collection is categorized into cultural history, natural history, and technological history; and comprises archaeological materials, such as earthenware and sarcophaguses, historical documents, old maps, fossils, and specimens of rare animals/plants among others. In addition, a tropical rainforest (Lambir Forest) is reproduced inside the facility. Various events, including those for children, are held frequently.