Vol.9  Dialogue between Kyoto University alumni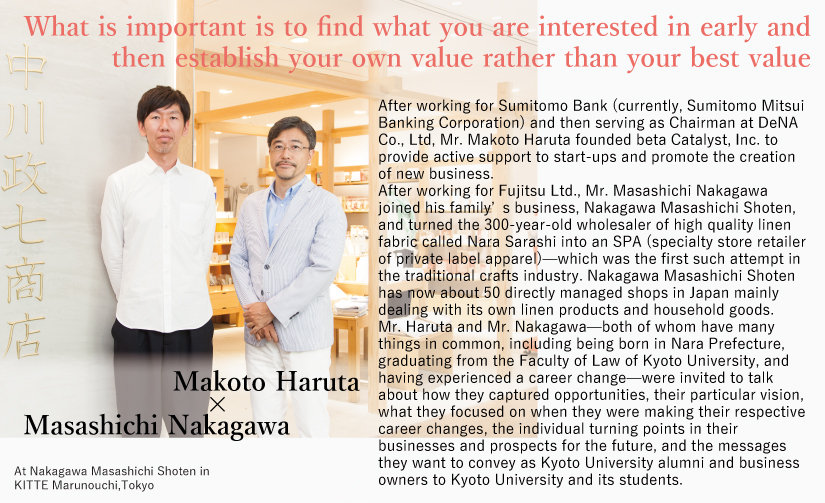 Makoto Haruta
President and CEO,beta Catalyst, Inc.
Born in Nara Prefecture in 1969. After graduating from the Faculty of Law of Kyoto University in 1992, Mr. Haruta joined Sumitomo Bank (currently, Sumitomo Mitsui Banking Corporation). In February 2000, he joined DeNA Co., Ltd., and was made a director in September 2000. He was promoted to the position of managing director in July 2008, and Director and Chairman in June 2011. He led the listing of DeNA on the stock market, the purchase of a professional baseball team (Yokohama BayStars), and other M&A projects. He founded a new company, beta Catalyst, in April 2015. In February 2016, he founded an AI venture, Exaintelligence.
He has also published a book titled "Kuroko-no-Ryugi, DeNA Bukakko Keiei no Butaiura" (in Japanese) (KADOKAWA)
◆beta Catalyst, Inc.◆
Founded in April 2015 as a venture support company, beta Catalyst invests in startups mainly in the fields of healthcare, lifestyle, AI and IoT, and becomes involved in the management of such startups. It also promotes the creation of new businesses through collaboration with large companies, universities and venture companies, including technology carve-outs.


Masashichi Nakagawa
President & CEO (the 13th),Nakagawa Masashichi Shoten Co., Ltd.
Born in Nara in 1974. After graduating from the Faculty of Law of Kyoto University in 2000, Mr. Nakagawa entered Fujitsu Ltd. In 2002, he joined his family's business, Nakagawa Masashichi Shoten Co., Ltd. as executive managing director and embarked on the opening of the directly managed store "Yu Nakagawa," thereby establishing a craftwork-based SPA (specialty store retailer of private label apparel). After taking the president's chair in 2008 (succeeding to the family name Masashichi Nakagawa in 2016), he established new brands, including "Nakagawa Masashichi Shoten" and "Nippon-ichi." In 2009, he launched a management consulting business focused on the traditional crafts industry.
He has published a book titled "Keiei to Design no Shiawasena Kankei" (in Japanese) (Nikkei Business Publications, Inc.).
◆Nakagawa Masashichi Shoten Co., Ltd.◆
Founded as a wholesaler of linen fabric called Nara Sarashi in 1716, and started manufacturing in 1912. Since the launch of the head store of Yu Nakagawa in 1985, the company has opened about 50 directly-managed shops in Japan, including those in Marunouchi KITTE, Omotesando, and GINZA SIX. The shops deal with a wide variety of household goods that owe their origins to the wisdom of the founders, ranging from the long-selling kitchen cloth "Hana fukin" to tableware, socks, clothes, and gardening equipment.
Mr. Haruta changed his career in pursuit of an environment that
allows him to make decisions on his own in a speedy manner.
Nakagawa We both have experienced career changes. For me, I first entered Fujitsu Ltd. and then joined the family-run business, Nakagawa Masashichi Shoten. Mr. Haruta, you founded beta Catalyst, Inc. after working for Sumitomo Bank (currently, Sumitomo Mitsui Banking Corporation) and then for DeNA Co., Ltd. What drove you to make your career change?
Haruta I entered Sumitomo Bank immediately following the collapse of the bubble economy, so it was a tough time for me. After being transferred to work in the Tokyo Head Office, I gained lots of valuable experience in the planning department, including launching a new business. When it was determined that Sumitomo Bank would merge with Sakura Bank, I decided to take on a new challenge in a new environment. Since I was 30 years old at that time, a major turning point in my life, I wanted to do a job that enabled me to make decisions on my own. In those days, it was in the middle of the IT bubble. I was interested in the world of the internet, but I knew how hard it was to found a company.
When considering entering an existing venture company, I met Ms. Tomoko Namba, the founder of DeNA (currently Executive Chairperson of DeNA), by chance and decided to join her company.
Mr. Nakagawa, I've heard that you wanted to join a small company when changing your job. Didn't you have a plan to take over your family's business?
Nakagawa To tell the truth, I did not know my family's business very well. I had never been told that I would inherit the family business, and I didn't think about joining the family company as an option.
Since at Fujitsu I felt I was up against a wall because it was such a large company, I was searching for a small, growing company with a sense of speed. Just one year ago, my family's company opened its first shop in Tokyo, which provided perfect conditions for me, though my father opposed my idea of joining the company, saying that the industry didn't have a bright future.
Haruta Didn't your father want you to succeed the family business deep down in his heart?
Nakagawa Yes. It was my father's strategy. On a TV program, my father happily said that he did not intentionally ask me to take over the family business because he knew I would rebel.
Now it has been 15 years since I made my career change. You worked for DeNA for 15 years too, didn't you?
Haruta I joined DeNA to gain experience before starting a business of my own, but soon after, I saw the burst of the IT bubble. It was a desperate time, dealing with problems that occurred one after another. When we were somehow able to list the company, 15 years had already passed.
Nakagawa What made you decide to leave the company?
Haruta When I was 40 years old, another important milestone in terms of age, I told the company that I would leave because it was achieving stable growth and I thought it was therefore good timing.
However, I was asked to stay. In the end, I remained at the company and was stationed in San Francisco from 2013 to 2015, when I thought the company could have been managed without me. Another motivation behind my decision to leave the company was that I was told by some of the locals to do something new by taking advantage of my unique experience. Since I was going to be 45 years old before the expiration of my term of duty in San Francisco, I thought that this was the best time to start something new. I always care about milestones in terms of age.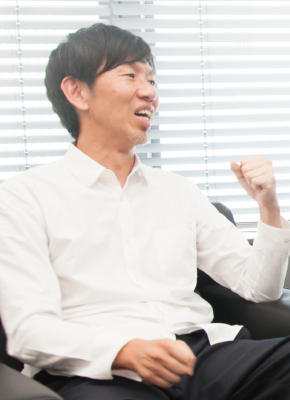 A vision is set up out of necessity,
rather than being present from the beginning
Haruta Since you joined the family business, you have achieved various reforms.
Nakagawa At that time, the scale of the traditional crafts industry had been reduced to one third its peak, and I saw several small- and medium-sized manufacturers going out of business every year. My company, as a wholesaler, was also in a tough situation, with sales expected to dwindle further in the future. I decided to switch my company from a wholesaler to an SPA (specialty store retailer of private label apparel), thinking that there was no way the traditional crafts industry could survive other than by properly conveying the actual value of commodities through branding. We opened several shops each year and established new brands, which were taken up by the mass media, eventually leading to an increase in public awareness of our shops. Despite our efforts to increase the scale of the SPA market, however, it was difficult to stop many manufactures from going out of business because few manufactures had enough power to respond.
Haruta That's why you started a consulting business.
Nakagawa In 2007, I established a clear corporate vision: "Rejuvenate the Japanese traditional crafts industry!" Under this vision, I decided to introduce the process of my success into crafts companies. If the products of revived companies could be sold at Nakagawa Masashichi Shoten shops, the shops' product lineup would be expanded and then their sales would also increase, eventually leading a revitalization of the industry as a whole.
Haruta That's an ambitious vision.
Nakagawa I wanted to prevent many crafts companies from going out of business. At the same time, it also meant providing motivation to employees, including me. Once a business rides a growth track, people often come to wonder what they are working for.
Haruta DeNA developed a corporate vision after it was listed, because we thought that as the number of employees increased, it would be difficult to clearly convey our thoughts.
Nakagawa Maybe, it can be said that a vision is set up out of necessity, rather than being present from the beginning.
Haruta I agree.
Nakagawa Our company was able to shed its image as a "small store dealing with Japanese sundries" by establishing a clear vision, thereby making it easier to make appropriate management decisions. It has brought about many benefits for us. For a company with a long history, business succession is a major challenge. From this perspective, I believe a vision plays an important role in creating the corporate culture necessary to ensure a smooth business succession.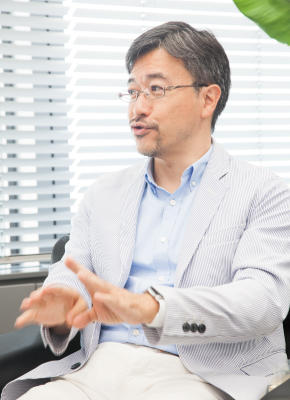 Mr. Nakagawa and Mr. Haruta talked about their future vision
Nakagawa beta Catalyst's vision is unique, isn't it?
Haruta I was very interested in various fields and had many types of businesses I wanted to run, but I couldn't do everything myself. So, I decided to help people with high motivation create new businesses. I want to be a catalyst that works as a bridge between those who are eager to do business and that provides opportunities to bring about innovation.
We aim to be not an investor but a group that supports the creation of a business; so we proactively get involved in other people's businesses and, at the same time, launch our own businesses.
Nakagawa Indeed, you are serving as the representative of Exaintelligence, an AI startup founded jointly with Kyoto University researchers.
Haruta I'm not a permanent representative. I look for my partners to eventually stand on their own feet and grow the company from my input, including my experience and ideas.
Nakagawa These days, the number of people who want to be entrepreneurs is on the rise.
Haruta たForming a team is essential to becoming a successful business. However, the number of those who are willing to work together with other people of like mind has not increased. As a result, there are many small ventures. To address this issue, I'm working to proactively promote business mergers. For instance, Exaintelligence merged with a company dedicated to the utilization of AI in the field of nursing care.
Nakagawa This way, you make ventures larger.
Haruta Yes. Once a company is listed, it is necessary to make efforts to build up the company's stock price. Market capitalization is the benchmark grade for companies. The current situation in which Yahoo!, a company launched 20 years ago, maintains the lead is not good, I think. We want to take on the challenge of creating new mega ventures.
Nakagawa Unlike you, I prefer a hands-on approach. My dream is to establish four or five operating companies and turn them into companies that are sustainable for 100 years ahead. Of course, this is my personal hope. For Nakagawa Masashichi Shoten, there is a long way to go before the achievement of our vision. I'd like to shape the future of the traditional crafts industry through various unique strategies, including the "Sanchi Initiative," which features the two pillars of "industrial revolution" and "industrial tourism."

Younger people are encouraged to create a new sense of value,
taking advantage of the unique character of Kyoto University
Haruta When looking back on their college days, many Kyoto University alumni say they did not go to school. That's true for me. I worked part-time at many companies to earn money to travel overseas and invested my energy in other things than study.
Nakagawa I immersed myself in soccer in my college days. Since I don't drink alcohol, I thought it was a nuisance to join the existing club and socialize with my club mates; so I launched a soccer club on my own.
In retrospect, don't you think that the experience you had in your college days is proving especially important in your current career?
Haruta I agree. I believe that what is important in doing business is a feeling of curiosity. Although it is often said that as people get older, they have few interests, I managed to keep my interest alive through a wide variety of experiences.
Nakagawa For me, the creation of my own soccer team may have been the starting point of my present job of business management.
Haruta Recently, I've been worried that few ventures originate from Kyoto University despite its function as an incubator. An overwhelming majority of ventures has been created by scientific students at Tokyo University. I think Kyoto University students should come up with more ideas by taking full advantage of its motto "academic freedom."
Nakagawa I think the value prevailing in society of prioritizing the creation of a venture company, listing it and raising its market capitalization has decreased the presence of Kyoto University. The creation of new value other than that would help Kyoto University take advantage of its culture and geographical location. I want Kyoto University to play a central role in establishing a unique sense of value.
Haruta Certainly. I think it's important to place emphasis on the unique characteristics of Kyoto University. If there is enough money to establish a fund, much more money should be invested on education, I think. For example, it would be possible to create courses to invite distinguished faculty members from around the world for a short period of time and attract excellent students from across the globe, looking toward the future, ten years from now. Kyoto has sufficient power to attract faculty members from abroad. I want Kyoto University to come up with unique ideas to differentiate itself, while taking advantage of its location.
I believe that Kyoto University students have a high level of ability and many options, so they need to more actively pursue what they want to do with more confidence.
Nakagawa What is important is to identify the point at which each individual can feel good. Mr. Haruta and I pursued our own interests. Different people have different interests. For a person who identifies his/her own "interest" point, it may be easier to paint a vision for his/her future career.