Vol.12  Marking the Launch of a Research Project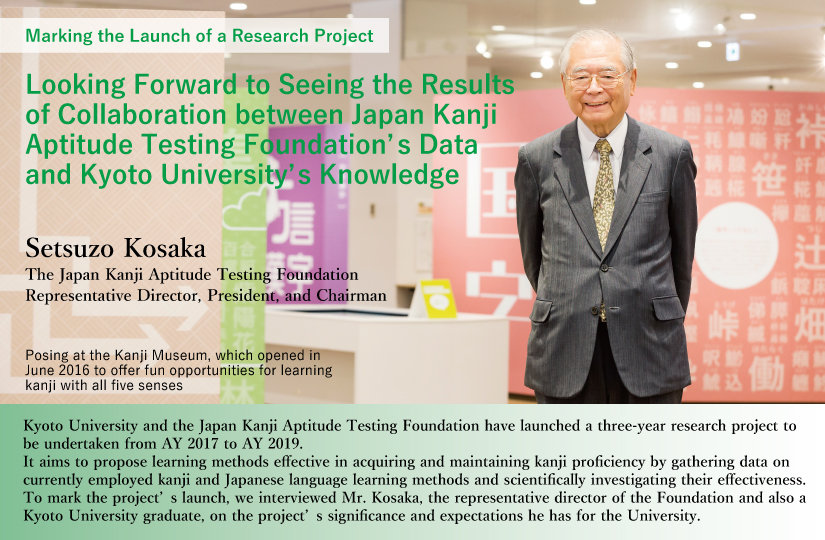 Setsuzo Kosaka
Born in Kyoto Prefecture in 1936. Joined ITOCHU Corporation after graduating from Kyoto University's Faculty of Economics in 1959. Became Executive Vice President of C. Itoh & Co., (America) Inc. in 1989. Became ITOCHU Corporation's Managing Director and its CEO for Latin America in 1993. Became Executive Chairman of Kurita Water Industries Ltd. in 1999. Became Chairman of the Japan Kanji Aptitude Testing Foundation in 2011. Became Representative Director of the Foundation in 2013. Became Representative Director and President of the Foundation in 2015. Became Representative Director, President, and Chairman of the Foundation in 2017. Has served over the years as a member of the Tokyo Metropolitan Board of Education, a visiting professor at Takushoku University, a steering committee member of the National Institution for Academic Degrees and University Evaluation, a member of the Ministry of Foreign Affairs' Foreign Service Personnel Council, Director of the Japan Association of Corporate Executives, and an advisory committee member and Chairman of the Constitution Research Council.
Has primarily published Kyoikuiin ni natte shitta koto, kangaeta koto (What I Found Out and Had Thought of as a Member of a Board of Education), Keizaijin kara mita nihonkokukenpou (The Constitution of Japan Seen from a Businessman's Perspective), Kokusaishigen kankyoron (Discussions on International Resources and the Environment), and Showa no shukumei wo mitsumeta me - chichi kosaka masaaki to ani kosaka masataka (Eyes That Witnessed the Fate of the Showa Period - My Father, Masaaki Kosaka, and My Older Brother, Masataka Kosaka).
Launching the three-year research project under two themes
The research project will primarily be led by the Graduate School of Medicine and the Graduate School of Informatics under the two respective themes of "conducting interdisciplinary research into different stages of the human life cycle and kanji neural networks" and "applying artificial intelligence to studying kanji and Japanese language learning methods." The former aims to uncover the relationship between kanji learning and brain functions, while the latter sets out to propose kanji learning support measures.
According to Mr. Kosaka, the representative director of the Foundation, the project was developed for the following reasons: 1) a sense of crisis over Japan's overemphasis on its need to acquire foreign languages and the decreased order of priority given to kanji and Japanese language learning, 2) the usefulness of kanji learning activities as a method of responding to the needs of Japan's super-aging population, and 3) the availability of findings from rapidly advancing research into artificial intelligence.
After having identified the current situation of kanji and Japanese language learning, Mr. Kosaka also considered collaborating with other universities. The decisive factor behind choosing Kyoto University was its ability to undertake the project systematically. Mr. Kosaka says, "After all, with the Foundation's headquarters located in Kyoto, teaming up with Kyoto University was the natural way to go."
Exploring the effects of studying Kanji throughout life
The project's research into kanji neural networks aims to explore the possibility of using kanji learning activities to respond to one of Japan's critical issues: helping its super-aging population prevent dementia. It focuses on two different stages of the human life cycle with help from subjects in their learning period (childhood to adolescence) and their ability maintenance period (late adulthood).
With subjects in their late adulthood, the project aims to examine whether studying kanji helps delay the progress of dementia. While everything up to this point must come as no surprise, interestingly, the project also examines subjects in their learning period.
A study that was conducted in the United States indicates that Alzheimer's disease patients with intellectual reserves accumulated from earlier years of life may have a lower risk of developing dementia. Kanji proficiency, of course, comprises part of the Japanese people's intellectual reserves. What influence does kanji learning have on children's brain functions? Does kanji proficiency have any activating effect on the brain? Questions like these are what the project aims to answer.
"If we can prove that what we study during childhood does have a lifelong effect, that could serve as an impetus for young people in their learning period to study kanji more seriously and, if all goes well, the project's status as one jointly undertaken by Kyoto University will lend further impetus by enhancing the credibility of its findings."
Aiming to use the Foundation's handwritten big data
for the good of society by incorporating artificial intelligence
The Foundation's database stores all handwritten answer sheets submitted by its past examinees, totaling 40 million. "The Foundation treasures its big data. It has also accumulated know-how and materials through administering tests and offering study support. The Foundation looks forward to analyzing and putting these to use for the good of society," Mr. Kosaka says.
On the other hand, Kyoto University has a long history of natural language processing research, which has recently been expanded to include using AI's deep learning capabilities for studies into character recognition and text analysis.
The Foundation aims to designate difficulty levels to kanji characters, analyze errors, and provide learners with reliable graded study guides by analyzing its data with Kyoto University's corpus (language resource) and analysis systems.
"The Foundation looks forward to finding good ways of using its data by combining it with Kyoto University's knowledge," Mr. Kosaka says.
Mr. Kosaka, who won Japan's national student go championship in his days at Kyoto University, recognized the need to respond to AI, when he witnessed the go and shogi worlds expressed at an early stage a sense of crisis over the rise of artificial intelligence.
"The advent of AI is bringing changes to all industries, including our own. Therefore, this joint research project with Kyoto University into the possibilities of artificial intelligence is a great opportunity for the Foundation to investigate the influence of AI," Mr. Kosaka says.
Holding high expectations as an alumnus regarding collaboration
with Kyoto University
Every two months in Tokyo and Osaka, the Faculty of Economics' alumni who graduated in 1959 (Showa 34) along with Mr. Kosaka hold reunions under the name of Sanshikai (Association 34), their alumni association, named after their year of graduation. They also hold various events, including joint reunions and visits to scenic historic sites. "Every time we get together, we recall our wonderful days at Kyoto University," Mr. Kosaka says.
Mr. Kosaka's father, Masaaki, was a philosopher; his older brother, Masataka, an international politician. They both graduated from and served as professors at Kyoto University. "I hated always being compared to my smarter brother," says Mr. Kosaka, who throughout the 20 years since Masataka passed away, has gratefully accepted every invitation to reunions arranged by the Kosaka association organized by his brother's former seminar students and attended by 60 to 80 guests. "Being attended by distinguished representatives from various industries, the reunions not only help maintain their relationships but also provide younger guests with great opportunities to build networks," says Mr. Kosaka.
Mr. Kosaka believes that the cross-generation gatherings of Kyoto University graduates strengthen its very core by helping its graduates expand their networks.
"I am reminded of my wonderful college days and deeply moved by this opportunity to conduct a joint research project with Kyoto University and look forward to seeing our project develop even further," Mr. Kosaka says.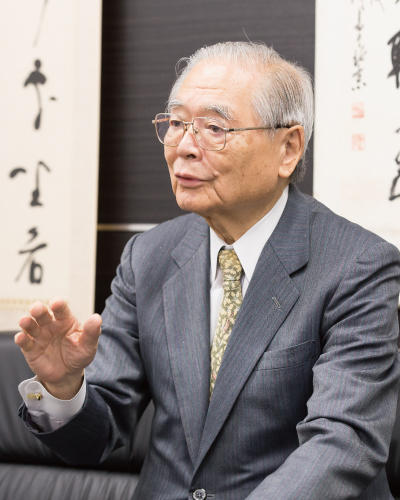 (Held in November 2017)