Vol.10 Interview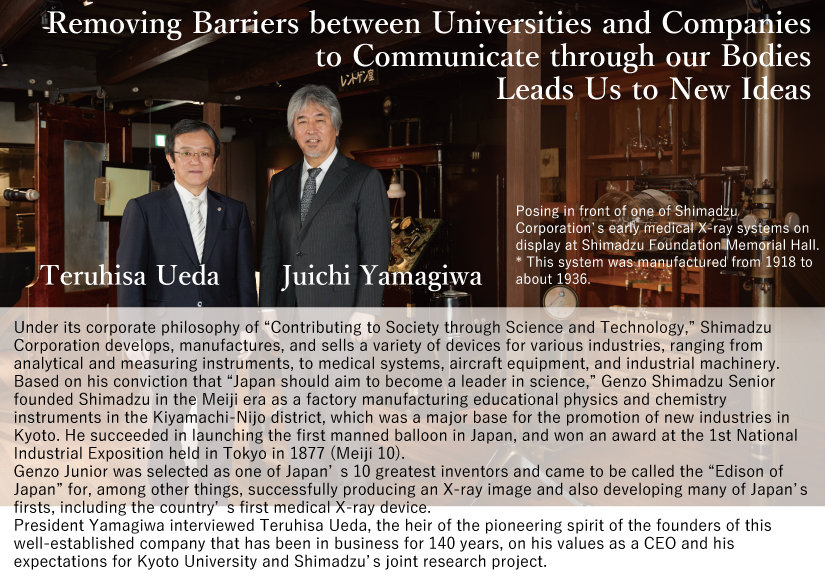 Teruhisa Ueda
President & Chief Executive Officer
SHIMADZU CORPORATION
【Biography】
Born in Iwakuni City, Yamaguchi Prefecture, in 1957.
Graduated from Kyoto University's Department of Industrial Chemistry in the Faculty of Engineering in 1980.
Completed a master's program offered by the University's Graduate School of Engineering in 1982.
Joined Shimadzu Corporation in 1982.
Earned a Ph.D. (in Agriculture) from Kyoto University in 1995.
Became General Manager of LC Department, Analytical Instruments Division, Shimadzu Corporation in October 2000.
Became General Manager of Shimadzu Corporation's Quality Assurance Department in its Analytical and Measuring Instruments Division and concurrently Special General Manager of the Division's Customer Service Department in October 2004.
Joined Shimadzu Corporation's Board of Executive Officers and also became Deputy General Manager of its Analytical and Measuring Instruments Division in June 2007.
Served as Deputy General Manager of Shimadzu Corporation's Analytical and Measuring Instruments Division and concurrently General Manager of the Corporation's Life Science Business Department in April 2008.
Became a member of Shimadzu Corporation's Board of Directors and also General Manager of its Analytical and Measuring Instruments Division in June 2011.
Became Shimadzu Corporation's Director and Managing Executive Officer and concurrently served as General Manager of its Analytical and Measuring Instruments Division in June 2013.
Became Shimadzu Corporation's Senior Managing Executive Officer and concurrently served as General Manager of its Analytical and Measuring Instruments Division in June 2014.
Assumed the position of Shimadzu Corporation's President & Chief Executive Officer (current position) in June 2015.


Creating industry-academia collaboration in the process of pursuing something interesting
Yamagiwa Ever since I took office as president, I have been saying, "We need to pursue something interesting." I heard that both Genzo Shimadzu Senior and Genzo Junior, the founders of Shimadzu Corporation, were full of unique curiosity and interest in the unknown, with which they led their company.
Ueda Genzo Junior, or the "Edison of Japan", invented many devices by applying his imagination to examining illustrations in documents that he could not read because they were written in foreign languages.
Yamagiwa So, that is the kind of pioneering spirit needed to develop many of Japan's firsts, including its first medical X-ray device, which must have also inspired Koichi Tanaka, Shimadzu's Nobel Prize in Chemistry winner.
I also heard that Genzo Junior collaborated with various researchers in coming up with his inventions.
Ueda Yes, the first successful example was producing X-ray photographs. In 1896 (Meiji 29), the year following Dr. Röntgen's discovery of X-rays in 1895 (Meiji 28), Genzo Junior succeeded in producing an X-ray image after performing many experiments in collaboration with Hanichi Muraoka, who was a professor at Japan's Third High School. This was only 11 months after X-rays were discovered.
Yamagiwa So, Genzo Junior was also ahead of his time in that he had already found an ideal way of practicing industry-academia collaboration.
Ueda Yes. Genzo Junior's philosophy was that "Science is a practical endeavor." So, whenever he made a new academic discovery, instead of ending at that point, he tried to find a practical use for it.
Yamagiwa So, that is where your company's strategy of applying ideas and discoveries to manufacturing comes from.
Ueda Applying to our manufacturing process theories and ideas developed by our researchers based on their discoveries is Shimadzu's specialty. Once manufactured, our products are continuously improved based on their performance in various industries to meet a broader range of needs in even more fields.
That is our basic way of doing business.
Identifying employees' characteristics and encouraging communication
Yamagiwa What do you value, as president of a well-established company, where the pioneering spirit of its great founders continue to be upheld?
Ueda I first and foremost value the health of our employees, followed by maintaining a workplace environment where they can comfortably communicate with one another and also improve their skills. I believe such environments are essential for new business ideas to be born.
At Shimadzu, Fridays are currently designated as "Communication Day," when employees are encouraged to leave early to enjoy communicating with non-Shimadzu workers. I believe communicating with people working in other industries helps us to broaden our views and notice things we would have otherwise overlooked. I also try to communicate more with as many of our employees as possible so that I can help them develop their skills by identifying their characteristics and assigning them to jobs that match them.
Yamagiwa How do you identify your employees' characteristics?
Ueda I try to seize every opportunity. I used to send out a president's message at the start of each term beginning in April and October, but this year I interviewed some of our younger engineers instead. I also hold regular meetings and social gatherings with our managers, which I plan to continue doing.
Yamagiwa That is impressive. While we live in a world of ICT, communicating in person usually proves more helpful in understanding one another. One thing that concerns me about today's students is that they lack opportunities to communicate through their bodies.
To help today's students become more extroverted, as they are often said introverted recently, in AY 2016 Kyoto University developed an Experience-based Overseas Travel Support System called "Omoro (interesting) Challenge." Instead of supporting conventional study abroad programs, this system provides scholarships to students who want to plan their own overseas activity programs. Last year, we fully recognized the significance of this program when we offered to recruit 30 students and received about 140 applicants, many of whom were female students or undergraduates.
Ueda Shimadzu also sends young employees to various countries overseas for a two-year training program designed to help them realize the importance and difficulty of communication by cooperating with people of different cultural backgrounds in overcoming communication barriers to formulate new business ideas. So far, the program has had 40 participants.
Yamagiwa I heard you also worked in the United States.
Ueda I worked in the Midwest at the University of Kansas. Dr. Higuchi, who was a world-renowned pharmacy scholar working at the University, contacted us, saying, "I want to build the best analytic center in the U.S." So, in collaboration with the University, we built the Shimadzu Kansas Research Laboratory, and I served as its manager.
Yamagiwa Did you encounter any difficulties?
Ueda Since my co-workers and I had different values, we needed to put extra effort into directing our energy toward the same goal.
In addition, Kansas has many tornadoes. One time, hailstones the size of baseballs hit my car and left dents. A dent in a car would upset a Japanese person, but some Americans I knew surprised me by just deciding to buy a new car, saying, "Replacing a car is not very expensive."
Yamagiwa I have spent some time in Africa and noticed that cars there were regarded as nothing more than tools for transporting people and goods and valued based on their sturdiness. The locals protected their cars by adding an extra car frame to their vehicles. So, just by examining one aspect of a country, like its cars, we can see that needs differ from one country to another.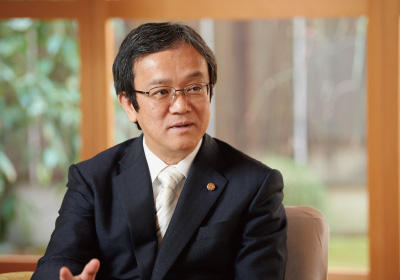 Innovation as a technological pursuit of ways to help resolve social issues
Yamagiwa The need for innovation is greater than ever, and national universities are also highly expected to respond to this need. However, the question is how that can be done. National universities have long been forced to compete with one another. However, innovation requires stimulating student and research exchange by removing barriers between not only themselves but also them and universities overseas.
I understand that your company has innovation centers overseas for your employees to exchange information with external researchers. What are your thoughts on innovation?
Ueda Innovation is to create value by devising new methods that can help resolve social issues. Shimadzu's way of stimulating innovation is to develop new products and applications by making full use of its technologies or finding new uses for them. Therefore, to identify the needs of different regions, we established innovation centers in the U.S., Europe, China, and Singapore for our employees to collaborate with external people.
Yamagiwa So, your company built a global network to increase its sensitivity toward needs.
Ueda Yes. We first identify what issues people around the world are facing, figure out which ones our technologies could help resolve, and then we team up with external researchers depending on the theme. Now, issues of this sort cannot be found in conference rooms. So, I tell our employees to go out into the world to find them.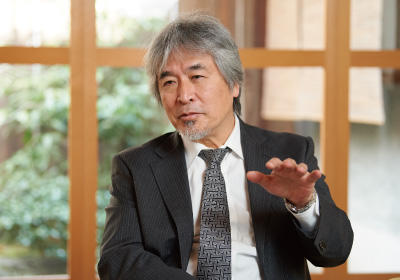 Confronting Japan's challenges, i.e., its super-aging population and 100-year-life era
Yamagiwa Japan's key issues today are its super-aging population and 100-year-life era. Do these have to do with the reason why your company has announced an effort to focus on the healthcare industry?
Ueda Yes. Our challenge will be to find ways to apply our technologies to help resolve diseases expected to increase in the near future, including dementia, Alzheimer's disease, cancer, and lifestyle-related diseases.
Our shareholders have asked us about the efforts we have put into developing dementia-related technology, which have been being made for some time now, and Koichi Tanaka's team has developed a high-precision way of extracting the protein that causes Alzheimer's disease from just a small amount of blood.
Being the only company in the world with both analytical instruments able to measure trace substances and medical diagnostic imaging equipment, Shimadzu is currently trying to find ways to put these technologies to effective use.
Yamagiwa The two most important points in maintaining a healthy body are to detect and treat diseases as early as possible.
Ueda Maintaining a healthy body also greatly depends on our diet. Recently, rapid improvements of food products have been made in the industry, such as by incorporating functional ingredients.
Shimadzu has conducted joint research projects aimed at understanding the relationship between health and citrus fruits by analyzing the components of Miyazaki Prefecture's specialties, including kumquats and hyuganatsu oranges.
Yamagiwa The current shift from an era of mass production and consumption to one of small-scale production of quality stuff will influence our current industrial structures, requiring companies to observe not only changes in production processes but also consumer needs.
Ueda Taken from that perspective, we can say that innovations are already happening in all industries.
Analytical and measuring technologies are essential for all aspects of our well-being, from mental health to brain functions
Yamagiwa Innovations incorporating artificial intelligence are currently attracting attention. Could artificial intelligence enhance medical diagnostic imaging devices?
Ueda Yes. Since diagnoses today require the examination of considerable amounts of data despite fewer doctors and greater numbers of patients, development efforts are quickly trending toward incorporating artificial intelligence into diagnostic imaging devices to streamline the retrieval of information from databases.
Yamagiwa On the other hand, I believe that we need to find the right balance between people and technology, because by encouraging a greater reliance on data and evidence, advances in technology, including artificial intelligence, tend to reduce our opportunities to exercise initiative and self-direction.
Ueda Yes. Data cannot reflect our feelings. That is why Shimadzu broadened its focus to include not only the healthcare industry but also the mental healthcare industry, and a joint research project aimed at developing the technology for diagnosing depression with a blood test is currently underway as well. We hope to facilitate the diagnosis and treatment of depression.
Yamagiwa The word "microbiome" has recently been attracting attention, with research findings indicating that microorganisms residing in our bodies cause mental disorders. We do not exist in isolation; rather, we coexist with microorganisms like gut microbiota. So, we need to analyze their activities.
Ueda Shimadzu is also already carrying out joint research projects aimed at developing microbiome-related technology with universities and dairy companies.
Now, I assume all discussions on this topic eventually lead to the human brain. After all, the brain is what senses comfort and discomfort. So, we also need to carry out research into how the human brain functions.
Yamagiwa I see. So, we will need more advances in technology and devices that would allow us to investigate the brain by noninvasive methods without causing damage.
Ueda Shimadzu has a device for studying the brain's activity state with near infrared light. The device uses light to measure the oxygen level of the brain's surface, and was originally developed as medical equipment. Recently, it has also been used by food product manufacturers to study the brain's response to tasty food. We have also had one of our women tennis players wear the device to help us examine the brain's response to hitting a powerful smash. Its use is being extended to many other industries, including car manufacturers wanting to measure seat comfort and film companies interested in what kinds of scenes move people.
So far, we know to some extent which parts of the brain become active when a person entertains certain thoughts or responds to certain stimuli. With insurance points now being added to depression diagnoses, some hospitals have begun using our device. We will make an effort to see it also being used to diagnose dementia.
Yamagiwa Artificial intelligence is nothing more than a powered-up version of part of the human brain, which has many more functions. I look forward to seeing research in this area being advanced even further.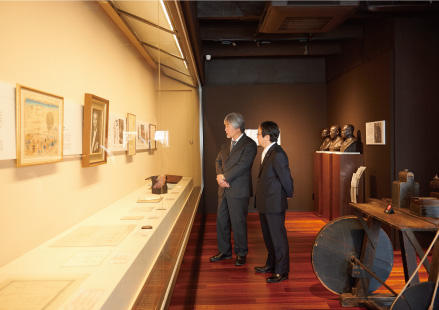 Developing new ways of thinking by having Kyoto University and Shimadzu's "weirdos" share their thoughts
Yamagiwa 2017 was the beginning of an epoch for Kyoto University. We were selected as a designated national university and established the Kyoto Academia Forum for us and other universities in Kyoto Prefecture to use as our activity base in Tokyo. Other events also took place, including ones that introduce the University's "weird" lecturers, which were titled Lectures of Kyoto University's Weirdos.
Kyoto University aims to promote original forms of industry-academia collaboration as a designated national university, make Kyoto's culture, art, and science widely known in Tokyo, and have its "weirdos" do interesting things that are characteristic of Kyoto University. In doing so, the University wants to create an atmosphere that welcomes free-thought by breathing new life into the slightly dull academic world and looks forward to welcoming the participation of the private sector. Does Shimadzu Corporation have any "weirdos?"
Ueda Yes, we have a lot of them, although I am not sure whether they can be of any help (laughs).
Yamagiwa Having "weirdos" at Shimadzu and Kyoto University share their thoughts could give rise to ideas beyond common sense. I would also like to ask your company to help us provide our students with internships.
On the other hand, with recurrent education, or alternating opportunities to work and learn throughout life, becoming increasingly important, I believe universities will be expected to serve even greater roles, and I look forward to helping your company in this regard. Engineers also need the knowledge of social sciences. Changes in politics and economics take place rapidly in both Japan and other countries worldwide, and our understanding of history changes as well. Updating your employees' knowledge will help them with their work and with communicating with people overseas.
Ueda Thank you. Shimadzu enthusiastically welcomes interns and has hired international students who worked with us in internship programs. In addition, we are seeing an increasing number of employees earning degrees from universities for completing joint research projects. I also earned a PhD in agriculture after returning from the U.S., where I met and became close friends with a teacher from Kyoto University's Faculty of Agriculture, who at the time was studying abroad, so I encourage our employees to earn degrees by promising rewards.
Intercultural communication experienced by connecting with the outside world, whether it be while studying at a university or working at a company, helps us to produce a rich output.
Yamagiwa I look forward to seeing us continue to inspire one another. Thank you very much for today.
(Interview held in March 2018)
■ Shimadzu Foundation Memorial Hall ■
The building that today serves as the Memorial Hall was constructed in the Meiji period as a two-story wooden structure by our founder, Genzo Shimadzu Senior, who used it as his residence-cum-head office for about 45 years.
The Hall includes permanent exhibits of the various physics and chemistry instruments, medical X-ray systems, and industrial equipment that Shimadzu has manufactured and sold since its foundation, as well as other related historical reference materials and artifacts. Together, these introduce not only Shimadzu's progress over the years but also Japan's progress in terms of developing modern scientific technology.
In April 2011, the Hall was renovated to commemorate the 135th anniversary of Shimadzu's foundation. The renovation has transformed the Hall into a space where visitors can experience the atmosphere and history of the Company's early years through story- and theme-based exhibits.