Project Support Fund
Kyoto University Rowing Club Support Fund
Supporting the activities of the Kyoto University Rowing Club of Lake Biwa Rowing Song fame
 "I am a son of the lake setting out on a cruise…."
 Thus goes the beginning verse of the Lake Biwa Rowing Song, a tune widely known in Japan. Written by Taro Oguchi, a member of the Third High School rowing club during a cruise around Lake Biwa, it has been adopted as the official song of the Kyoto University Rowing Club, and its lyrics evoke a spirit of unity among Kyoto University graduates of all generations wherever they may be, in Japan or abroad.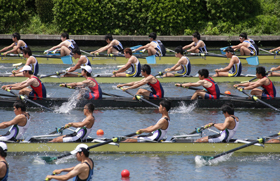 The origins of the Kyoto University Rowing Club date back to a water sports festival held by the Third High School the year following the establishment of Kyoto Imperial University. At the Japan Intercollege Championship games in 1956, its team competed with a rival team from Keio University for a ticket to the 1956 Melbourne Olympic Games that year. The Club has continued to build on its competitive record in various settings, including first place in the national men's pair competition in 2006 and second place in intercollegiate competition eight the following year.

The Rowing Club is determined to be an intercollegiate champion. Its crews spend time year-round at the Club boathouse on the Seta River, hold practice runs in their boats from the early morning hours, and participate in many rowing expeditions with corporate as well as rival collegiate crews from the University of Tokyo, Hitotsubashi University (former Tokyo University of Commerce), Waseda University, and Keio University among others.

The Fund was established with the mission of providing support for a broad range of Rowing Club activities.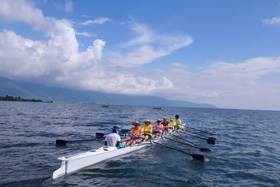 From the perspective of training human resources that show promise, the Kyoto University Rowing Club strives to

◆build healthy minds and bodies through rowing competition and cultivate talented, self-reliant individuals with the ability to contribute to society.
◆foster closer interpersonal exchange through boating activities and cultivate individuals with compassionate qualities.

We humbly seek your understanding of these goals and request that you consider making a donation to the Rowing Club Support Fund.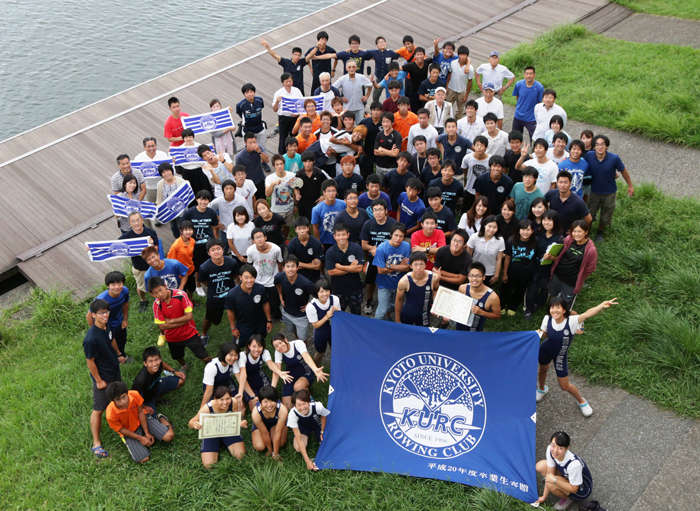 Fund applications
Expanded assistance for Rowing Club activities
Expenses for purchases of consumables and equipment required for competition and practice
Expenses for training camps and tour expeditions
Expenses for PR and other Club activities
Coaching-related expenses (training fees, travel expenses, etc.)
Enhancements to the environment for, and safety of, Rowing Club activities
Expenses associated with providing a better, safer environment for Club activities