Project Support Fund
Third Higher School Fund
To preserve valuable materials relating to the history of the Third Higher School and pass on its spirit
 The Kyoto University Archives was established in November 2000 to collect, organize, preserve, provide access to, and conduct research on, materials relevant to the history of Kyoto University. Currently, it has approx. 160,000 items of these archived historical materials in its collection, of which around 10,000 are materials relating to the former Third Higher School.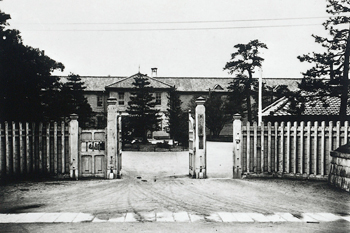 The Third Higher School had its beginnings as the Seimi-kyoku, a school that opened its doors in 1869 in Osaka to provide training in chemistry and physics. Following a series of reforms to the education system, it was relocated to Kyoto in 1889 and was renamed the Third Higher School in 1894. Until its eventual integration into Kyoto University as a measure in educational reform following World War II, the Third Higher School nurtured its own atmosphere of academic freedom within the setting of Kyoto, a city steeped in rich historical and cultural traditions, and served as a source of outstanding human talent.

 To celebrate the 135th anniversary of the opening of the Seimi-kyoku, in February 2003 the Kyoto University Archives launched a one-year-long Third Higher School Exhibition with the support of the Third Higher School Foundation and Third Higher School Alumni Association. This event placed around 100 items on display, including a bust sculpture of Hikoichi Orita, who long served as the school's president, a handwritten placard of the school name by Korekiyo Takahashi, and personally signed enrollment pledges by the noted scientists, Hideki Yukawa and Shin'ichiro Tomonaga. This exhibition event attracted donations of valuable materials from former Third Higher School students, their families, and many other interested parties, in turn prompting the Kyoto University Archives to set up the Third Higher School Fund. With this donation-based support structure in place, the Archives has continued to collect, preserve, and exhibit valuable materials relating to the Third Higher School and pass on the spirit of the Third Higher School to future generations.
Fund applications
Materials acquisition and preservation
Acceptance, organization, and exhibition of materials relating to the Third Higher School
Surveys and research on the history of the Third Higher School
Public relations and educational activities
Preparation and management of exhibitions relating to the history of the Third Higher School